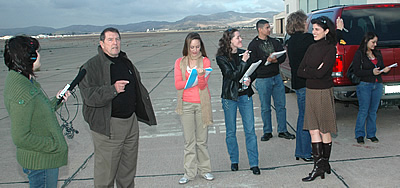 Natalie Fousekis, associate director of the Center for Oral and Public History, smiles as students record the remembrances of Lt. Col. William Kogerman. During the 1960s, the decorated combat pilot was based at El Toro Marine Corps Air Station, which is being transformed into the Orange County Great Park. With funding from the Great Park Corp., CSUF students are compiling oral histories of veterans who served at the base.
2010 El Toro Homecoming Will Welcome Veterans Back to the Base
FOR IMMEDIATE RELEASE:NOVEMBER 4, 2010
CONTACT: JENN STARNES, 949-724-6574
WHAT: The Orange County Great Park will celebrate Veterans Day a few days early with the annual El Toro Homecoming event. The event pays tribute to those who have shared their memories of life at Marine Corps Air Station El Toro through the Great Park Oral History Project.
The Great Park Oral History Project is a collaboration between the Orange County Great Park Corporation and the Center for Oral and Public History at California State University, Fullerton. Beginning with the earliest residents of the Base, the project records interviews with Marines, their families, and those who worked at El Toro.
WHO:
Larry Agran, Chair, Orange County Great Park Corporation
Sukhee Kang, Mayor, City of Irvine
Dr. Natalie Fousekis, Director, Center for Oral and Public History, Associate Professor of History, California State University, Fullerton
Pete Jacobs and His Wartime Radio Review
Pre-event interviews available by request with:
• Captain Dick Ferree was stationed at MCAS El Toro from 1959-61 after joining the Marines during his junior year of college, and spent the majority of his time at El Toro. Following his time in the Marine Corps he spent nine years in Chicago until his business moved him to Fullerton, California, where he lived for twenty-five years. He currently resides in Newport Beach.
• Born in 1935, Samuel Romero, Marine sergeant and community activist, has spent his entire life in Santa Ana's Logan Barrio. He served in the Marine Corps from 1956-62, when he was able to work at the base while living at home. Described as the conscience of Santa Ana, Romero has spent the last twenty-five years standing up for equality for all people.
• Captain Clarence Nelson joined the United States Marine Corps immediately following the attack on Pearl Harbor. He was stationed at El Toro in 1945 when he first met Technical Sergeant Vera Gilpin. Clarence and Vera served in Air Base Group-2 and also did a stint in special services where he sang and she played the accordion at local bond rallies. Clarence was already married, and Vera became engaged soon after the war ended. They met again in 1997 after the death of both their spouses. Clarence and Vera found love a second time and married shortly thereafter. The two Marines currently live in Oceanside, California.
WHEN: Saturday, November 6, 2010
11:00 a.m. to Noon – Interview opportunities
WHERE: Orange County Great Park
Hangar 244
Off 5 Freeway and Sand Canyon
(949) 724-6574
WHY: To preserve Orange County's rich military heritage through an Oral History Project that explores the role of the El Toro Marine Corps Air Station in the transformation of Orange County in the years after World War II.
Now in its third year, the Oral History Project has conducted 300 interviews from 1942, when the U.S. military broke ground on the former Irvine Ranch lima bean field, and Orange County's population was less than 150,000, to 1964. The project will ultimately include interviews up to the base closure in 1999, when the county housed more than 2.9 million residents and had undergone a sweeping transformation, to the present transition from a Marine Corps Station to the Orange County Great Park.