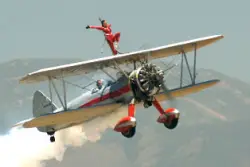 "Growing the Park" Event has Free Fun for All Ages
In the Air and on the Ground, the Orange County Great Park is Celebrating its 5th Anniversary
FOR IMMEDIATE RELEASE: July 1, 2010
CONTACT: JENN STARNES, 949-724-6574
WHAT: Fearless aerobatic war planes, roaring F-18 flyovers, intrepid wing walkers, and a dazzling laser light show finale are all part of "Growing the Park," marking the fifth anniversary of the Orange County Great Park.
"Growing the Park" is a free afternoon and evening wide-ranging family fun festival that covers 27 acres of the Park. It will take visitors on a journey through the Great Park's transformation from its military and agricultural heritage to a community oasis showcasing the energetic development of the Orange County Great Park.
The LA Galaxy Soccer Street Team will bring an ultimate soccer experience, along with soccer tricks and performances by the Futboleros
Discovery Science Center will present hands-on children's science activities.
The Irvine 2/11 Battalion will display artillery equipment & Marine Corps Gear for kids to try on.
The Orange County Performing Arts Center Italian Street Painters will draw on asphalt, OC Philharmonic Society will highlight its Music Mobile and the Bowers Kidseum, OC Museum of Art and Chuck Jones Center for Creativity will feature hands- on art activities.
Whole Foods Market will conduct a food demonstration using ingredients from the Great Park Farm and Food Lab.
Captain Fitness will award certificates to all kids who take on a fitness challenge.
Families will also enjoy pony rides, food, kite flying, live bands and entertainment, and balloon rides in the iconic Orange County Great Park Balloon.
Children can play in the new Kids Rock play area.
Visitors can "Celebrate 5" by bringing five cans of food to help support Second Harvest Food Bank and the Community Action Partnership of Orange County.
WHO: Sukhee Kang, Mayor of the City of Irvine, and Director, Orange County Great Park Corporation
Larry Agran, Chair, Orange County Great Park Corporation
Mike Ellzey, CEO of the Orange County Great Park Corporation
Interview opportunities
WHEN: July 10, 2010 from 3:00 p.m. to 9:30 p.m.
Laser light show begins at 9:00 p.m.
WHERE: Orange County Great Park, off the 5 freeway and Sand Canyon in Irvine or Jeffrey Blvd. as alternate event entrance.
WHY: "Growing the Park, Celebrate 5" is an opportunity for the public to see the development of the Great Park. A $65.5 million development plan to increase the size of the Park by 200 acres is currently underway. The plan will add exciting new features to the Park, including lighted soccer fields, picnic meadows, an art and culture exhibition space, a 100-acre community farm, community gardens and a farmers market.
B-ROLL B-Roll and photo stock of last year's event available.