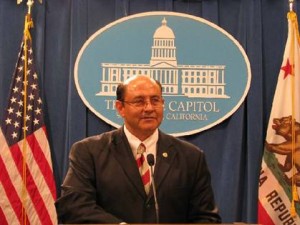 Photo from archive: California State Senator Lou Correa at the State Capitol during a press conference
Senator Correa Supports Measure Recognizing Injustice against Italian-Americans during World War II Period
SACRAMENTO, CA- This week, State Senator Lou Correa (Orange County) voted to approve Senate Concurrent Resolution 95 (SCR 95) introduced by Senator Joseph Simitian (Palo Alto). SCR 95 sets forth the Legislature's formal acknowledgement that the treatment by the U.S. government of thousands of Italian-Americans who lived in this country during the World War II period represented a fundamental injustice. This measure expresses the Legislature's deepest regrets concerning these acts, as well as its reaffirmation of a commitment to preserving the rights of all people and celebrating their contributions to our nation.
"I commend Senator Simitian for introducing this measure that embodies our promise to defend people's rights," said Senator Correa. "As a state we must recognize and take responsibility for the wrongs committed in the past. I believe this measure is an important step in that process."
While the relocation and internment of Japanese-Americans and Japanese nationals within the United States during World War II period is well known, most history books fail to include the fact that thousands of German-Americans, German nationals, Italian-Americans and Italian nationals also were interned or forced out of their homes into relocation programs.
This measure reflects one of the founding principles of our nation's constitution: the balance of power within the government is crucial to protect the rights of the people.
During the administration of President Franklin Delano Roosevelt and the Democratic Congress, there were many injustices perpetrated against persons of Italian, German or Japanese ancestry. This discrimination included internment, individual and group exclusion, internee exchanges for Americans held in Germany, deportation, "alien enemy" registration requirements, travel restrictions and property confiscation. A great number of families were separated, and many suffered the loss of their credibility, homes and belongings.
While these injustices were occurring, many German-Americans, Italian-Americans, and Japanese-Americans were fighting for our nation's freedom abroad, including against their ancestral homelands.
SCR 95 is now in the Assembly for consideration.
Senator Lou Correa represents the 34th District, which includes the cities of Anaheim, Buena Park, Fullerton, Garden Grove, Santa Ana, Stanton and Westminster. ####
Lina Hamilton
Legislative Aide
Office of Senator Lou Correa, 34th District
(916) 651-4034
lina.hamilton@sen.ca.gov