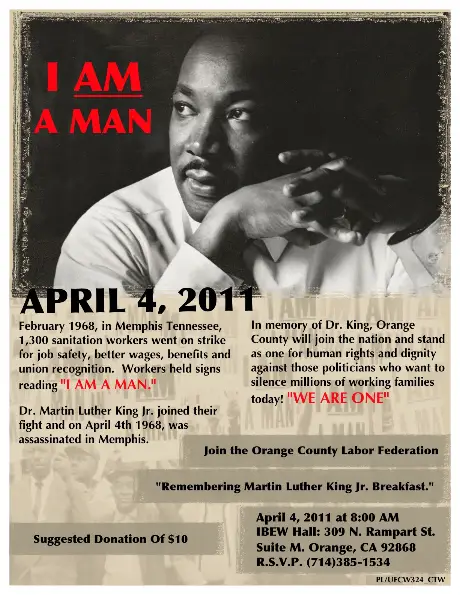 February 1968, in Memphis Tennessee, 1,300 sanitation workers went on strike for job safety, better wages, benefits and union representation. Workers held signs reading "I AM A MAN." Dr. Martin Luther King Jr. joined their fight, and on April 4th 1968, was assassinated in Memphis.
In memory of Dr. King, Orange County will join the nation and stand as one for human rights and dignity against those politicians who want to silence millions of working families today! "WE ARE ONE"
RSVP. Suggested Donation of $10
The National Day of Action continues on! Candlelight Vigil in the City of Santa Ana from 5:00 to 7:00 PM. Click here for more information.
If you have any questions about these events, please contact the Orange County Labor Federation at (714) 385-1534.
Time: Monday, April 4 · 8:00am – 11:00am
Location: Ibew local 441
309 N. Rampart St. Suite M.
Orange, CA