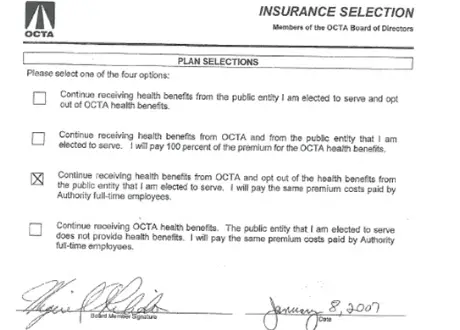 The not very objective reporters at the Voice of OC have been confronted with evidence that Santa Ana Mayor Miguel Pulido did ask the OCTA to continue his health benefits, way back in 2007, and at the same time he told them that he was opting out of Santa Ana's health insurance program, and yet the Voice of OC continues to attack Pulido. 
The Voice of OC questioned why Pulido, and Councilman Vince Sarmiento, have higher benefits than their counterparts on the Council.  Could it be that they have more kids than their peers on the Council?  Council Members Martinez and Alvarez have no kids.  The other Council Members have, at most, two kids each, as far as I know.
Why doesn't the Voice of OC reveal that Irvine Council Member Beth Krom makes more than any of her fellow Council Members and she makes more than Pulido and the other Santa Ana Council Members?
An OCTA agency spokesperson confirmed that Pulido's form is on file with the agency, according to the Voice of OC.
Ream wrote a letter to OCTA Chief Executive Will Kempton, in which Ream admitted that the city "continued [Pulido's] insurance coverage on an annual basis without his knowledge, participation and/or consent."
Pulido wrote a letter to Ream this week, confirming his past stated desire to opt out of Santa Ana's healthcare program.  In the letter, Pulido stated:
As you are aware, the last time I authorized the City of Santa Ana to enroll me in a medical insurance plan was in 2001. Accordingly, please accept this letter as an official request to have my City of Santa Ana health and dental insurance coverage cancelled effective immediately.
Furthermore, I waive my right to receive any cash benefit from the City of Santa Ana, to which I am entitled in lieu of eliminating my city health and dental benefits.
What does this all mean?  In short, it means that this entire made-up scandal was, at the end of the day, much ado about nothing. 
It is true that both Ream and Pulido were unsure about the status of these benefits, but given that Pulido addressed this several years ago, in 2007, it makes sense that he might be unsure about the benefits now.  However, the issue has been cleared up now, to the satisfaction of the OCTA CEO, Will Kempton.
The only reason the Voice of OC news blog is still ripping Mayor Pulido is because their job-killing chairman of the board, former state senator and trail lawyer Joe Dunn, is a backer of Pulido's opponent, criminal defense lawyer Alfredo Amezcua.  And Dunn is peeved because Pulido fought to keep the 4th Court of Appeals in town when Dunn tried to move it to Irvine.
And Voice of OC funder, union boss Nick Berardino, is still mad at Pulido because the Mayor refused to back his carpetbagger Supervisorial candidate, Tom Umberg, a few years ago.  You might recall that race.  Umberg crashed and burned when it was revealed that he was cheating on his long-suffering wife.  Janet Nguyen won that race and has since become Berardino's lap dog, which makes one wonder why he is still upset with Pulido.