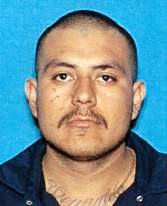 Detectives Make An Arrest In Homicide -1000 Block South Standard
Suspect/Arrested: Fernando Jaramillo Llamas (25)
Decedent:Maria Teresa Murillo Rojas (Jaramillo) (26)
Friday, May 24, 2019 At 7:10 AM, the SAPD officers responded to a call of a deceased female at the Cornerstone Village Apartments located at 1021 South Standard Avenue. Orange County Fire Authority paramedics responded and pronounced the victim deceased at 7:22 AM.
The preliminary field investigation revealed the decedent was a 26-year old Hispanic female who resided in the apartment with her 25-year old husband, their 1-year old daughter, and the decedent's extended family.
Officers learned the husband left the location prior to the discovery of the decedent's demise. Officers also learned the husband was currently out on bail for an on-going criminal proceeding. Evidence at the scene indicated foul play.
SAPD Homicide detectives responded and assumed the investigation. Detectives identified the decedent's husband, Fernando Jaramillo Llamas, as a named suspect pending further investigation.
At approximately 9:05 AM, SAPD Officers responded to reports of an attempted suicide at Aluminum Precision Metals at 523 East Alton Avenue, Jaramillo Llamas' last known place of employment. Upon arrival, police officers observed Jaramillo Llamas flee the location in a black Volkswagen Passat but were unable to track him.
At 11:14 AM, patrol officers observed the vehicle driving in the area of Grand Avenue and the 5 Freeway. A vehicular pursuit ensued. The pursuit terminated in the area of Grand Avenue and Dyer Road due to a traffic collision. The driver fled on foot. Officers arrested Jaramillo Llamas at the termination of the foot pursuit. Orange County Fire Authority paramedics transported Jaramillo Llamas to a local trauma center for medical treatment.
Homicide Detectives interviewed Fernando Jaramillo Llamas. With concurrence from the Orange County District Attorney's Office, SAPD Homicide Detectives booked Jaramillo Llamas for CPC 187 – Murder, CPC 273.6(b) – Violation of a Domestic Violence Court Order, and CPC 273a(a) – Child Endangerment.