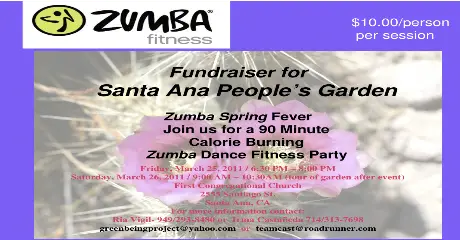 The supporters of the Santa Ana People's Garden are gathering at the community garden site, located at 2555 Santiago St., in Santa Ana, for an intense 90 minute dance fitness fiesta. Come Samba, Salsa, Merengue, Cumbia, Belly Dance & Flamenco with them.  Or just hang out.  The music is going to be hot!
Friday night, March 25, they will meet from 6:30p.m.- 8:00p.m. & Saturday morning, March 26, they will meet again from 9:00a.m. – 10:30a.m. $10 donation of each class…You won't want to miss these sizzling classes. They will raffle off many great prizes including one free month of fitness classes in the City of Santa Ana.
This is a great way to end a long week or begin a nice weekend, however you want to look at it ~ it's great for your mind, body & spirit!
Your funds will go directly toward their next project: The Mural In the Garden.  The Santa Ana People's Garden has been enriched by many people of talent, skills, knowledge & passion that comprise one special ideal ~ COMMUNITY ~
Click here to RSVP on Facebook.
The Santa Ana People's Garden is an organic community garden with available, individual plots!
This is the first community garden in Santa Ana and welcomes all who are interested in gardening and community building; regardless of religious beliefs, age, race or political positions. It is for everyone to share knowledge to grow pure organic fruits and veggies.
We are in need of funds to make our garden even more beautiful by creating a mural that depicts the community's diversity and commitment to an enriched healthy living by "growing what we eat".
Thank you for your support and continued commitment to the Santa Ana People's community garden.