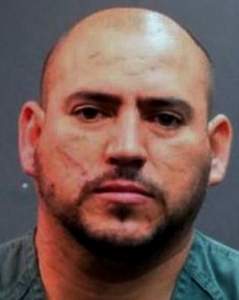 Cornelio B. Chairez Velasquez, a 37-year-old man, was convicted on Wednesday of raping a 14-year-old girl in Cabrillo Park in Santa Ana and attacking another woman a few months later, according to NBC News.
The 14-year-old girl got into an argument with her mother and ran away from home on Nov. 24, according to the OCDA prosecutor. The girl was sitting on a park bench, where she had planned to sleep, at about 1 a.m. when Velasquez appeared and approached her.
The girl wanted to get away from him as he felt uncomfortable but he took out a knife and ordered her to sit down on the bench. He then tried to force her to perform a sex act on him and when she resisted he made her lie down and then raped her.
Velasquez struck again on Jan. 25, when a woman drove herself and three friends from Long Beach to Santa Ana to see a show at Original Mike's restaurant (an establishment often featured on our weekly Cochino List). After the show the group continued drinking at another bar and then stayed the night at a Motel 6.
The next day the woman woke up and she remembered that she had left her car at the bar, so she walked back to the bar to pick up her vehicle. She ran into Velasquez at a gas station at Edinger and Grand Avenues, where he offered to take her to the bar in his pickup truck.
However the two of them ended up at his motel in Santa Ana where they drank beers and smoked marijuana. At some point while partying he "snorted a white substance," according to the prosecutor.
At some point as the victim adjusted her wig in front of a mirror, he came up behind her, slapped her on the butt and pulled her pants down. The victim pulled up her pants, backed away and told Velasquez "no."
Velasquez then offered to pay her to have sex with him. She said no again and he got angry. He then punched her in the face and head and beat her until she was in a fetal position.
The victim turned the tables however as eh was able to pull her cell hone out of her fanny pack and call 911 during the attack. Velasquez then got on top of her and put his fingers in her mouth to keep her from talking to the 911 dispatcher.
The woman fought back – biting his fingers which finally convinced Velasquez to stop his attack, get up and leave. But he came back a few moments later to accuse her of taking his car keys. The suspect however had kept her phone connected to the 911 dispatcher. She had the phone on speaker mode as Velasquez took the strap from her fanny pack and began to choke her with it.
The victim was somehow able to shout out the name of the motel they were at, and Velasquez attempted to escape he walked right into the responding SAPD police officers.
Velasquez then told the officers that he and the victim had negotiated a price to have sex, but as they disrobed she asked for more money and he refused. When the victim refused to do the sex act he angrily slapped her before leaving and returning to another scuffle with her as he thought she had put his keys in her fanny pack.
SAPD police investigators were able to connect Velasquez to the rape of the teen through his DNA on discarded cigarette butts at the crime scene and semen found in the girl, according to the prosecutor.
Velasquez was convicted of attempted forcible oral copulation on a minor 14 and older, sexual penetration of a child 14 and older by foreign object by force, forcible rape, forcible oral copulation of a minor 14 and older, assault, and assault with force likely to produce great bodily injury, all felonies.
The jurors inexplicably acquitted Velasquez of attempted murder and attempted voluntary manslaughter as well as a count of assault with the intent to commit a sex offense.
Velasquez, who is scheduled to be sentenced Oct. 4, faces up to 45 years to life in prison.