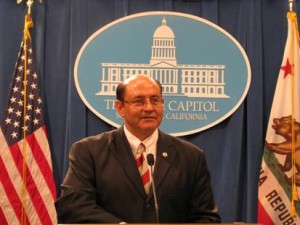 PHOTO FROM FILE: State Senator Lou Correa during a press conference at the State Capitol.
Senator Lou Correa,­­­­­­­­­­­­­­­­ ­ 34th Senate District
For Immediate Release: June 2, 2010
Contact: Lina Hamilton, (916) 651-4034
Legislation Prohibiting Violent Felons to Own Bullet Proof Body Armor Gains Governor's Signature
SACRAMENTO, CA – Today, Senate Bill 408 (SB 408) introduced by Senator Alex Padilla (Pacoima) and co-authored by Senator Lou Correa (Orange County) was signed into law by Governor Arnold Schwarzenegger. This measure revises the definition "body armor" in the James Guelff Act, which was signed into law in 1998. On December 2009, the California's Second District Court of Appeal ruled that the Act was unconstitutionally vague. The ruling stated that the definition of body armor in the law was too confusing for the average citizen to understand.
"I am very proud to be part of this legislative effort that makes it unlawful again for violent felons to posses any body-armor, such as bullet proof vests and gear," said Senator Lou Correa. "This new law is a step forward in public safety. It helps to better protect the lives of our law enforcement agents and the public in general." Continue reading→