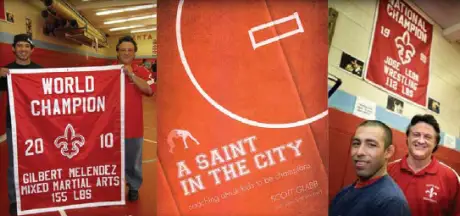 Looking for a great Christmas gift or stocking stuffer?  How about a copy of "A Saint in the City: Coaching At-Risk Kids to Be Champions," by Scott Glabb?
In A Saint in the City: Coaching At-Risk Kids to Be Champions, Glabb shares his inspiring wrestling experiences from years of coaching the boys of Santa Ana High School with little hope for success, let alone a bright future. They had no prayer of a win, but Coach Glabb roused his athletes to bravely overcome their disadvantages to raise their school from being the pariah of Southern California wrestling to one of the most respected athletic programs in California.
A Saint in the City openly describes the crime-ridden lives of athletes who didn't even hope for more until they started wrestling and found a coach who stirred them to greatness. Through Coach Glabb's reflections and his athletes' own words, A Saint in the City chronicles the tribulations and triumphs of one team that wrestled for victory."
Here is an excerpt:
"With time running out, he had to chase his man down at the center of the mat before locking up again. His opponent blocked his move, maintaining his lead with less than ten seconds left. José lunged in for a front headlock and used all his strength, calling on all his hours of training and conditioning. I watched the final second tick away as José became a national wrestling champion.
220 pages – $18.99 (paperback).  Christmas special: Only $15 if you buy a signed copy directly from Coach Glabb.  For a signed copy, call Glabb at 714-609-6607, or email him at glabb@prodigy.net.
You can also buy this book online at www.sawrestling.com, or on Amazon.com.