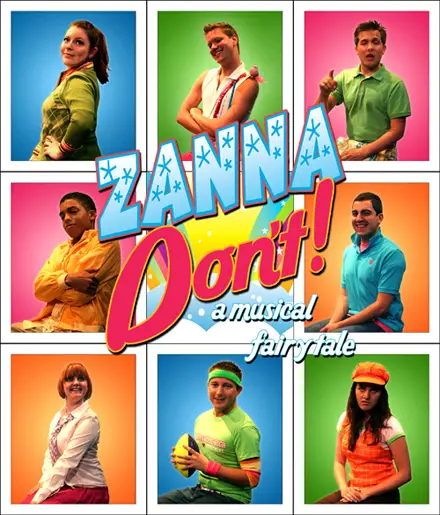 OPENING THIS WEEK ON THE THEATRE OUT STAGE:
Zanna Don't, June 25 – July 31
Who's Got Extra Love? Guys grab your guy, girls grab your girl and head on down to Heartsville High to have a gay ol' time with Zanna and his friends in this magical, musical fairy tale!
Featuring: Andrea Dennison-Laufer, Justin Scott Eaton, Frankie Marrone, James Oronoz, Billy Rodriguez, Alissa Sanchez, Colleen Wilson and Bryan Rogers as Zanna.
Directed by Jack Millis, Musical Direction by Stephen Hulsey, Choreography by Frankie Marrone. Book, music, lyrics by Tim Acito. Additional book and lyrics by Alexander Dinelaris.
Purchase tickets today
$25 General Admission, $15 Student Admission. Visit our Box Office to search for the perfect performance night and reserve your seats today, or call 714-826-8700. Special discounted performances available!
Box office: 714.826.8700
Theatre Out performs at: The Empire Theatre, 202 N. Broadway, Santa Ana, CA, at the Santa Ana's Artist Village
Our mailing address is: Theatre Out, P.O. Box 2989, Anaheim, CA 92814