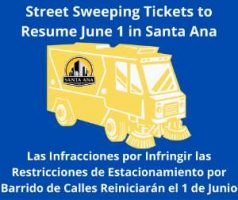 The City of Santa Ana will resume issuing street sweeping tickets on Monday, June 1, 2020.
The public should move their vehicles from City streets during the days and hours indicated on the street sweeping parking restrictions signs.
In order to help the public comply with the statewide stay-at-home order during the COVID-19 pandemic, the City suspended street sweeping tickets from March 15 through May 31.
All other parking and traffic rules, restrictions and permit requirements remain in effect.
Las Infracciones por Barrido de Calles Reiniciarán el 1 de Junio
La Ciudad de Santa Ana va a reiniciar las infracciones por infringir las restricciones de estacionamiento por barrido de calles el 1 de junio de 2020.
El público debe mover sus vehículos de las calles de la Ciudad durante los días y las horas indicadas en los letreros de restricciones de estacionamiento de barrido de calles.
Para ayudar al público a cumplir con la orden estatal de quedarse en casa durante la pandemia COVID-19, la Ciudad suspendió las infracciones por barrido de calles del 15 de marzo al 31 de mayo.
Todas las demás reglas y restricciones de estacionamiento, al igual que requisitos de permisos, permanecen en vigor.