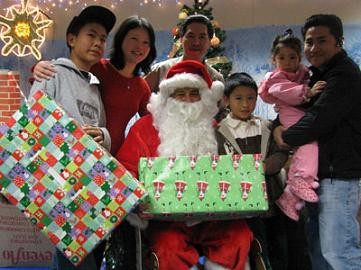 Senator Correa played Santa Claus last year when he delivered toys to the kids at the Multicultural Center at St. Anselm's
State Senator Lou Correa is hosting a "Holiday Open House," on Thursday, December 3rd, 2009, from  4:00 – 6:30 pm, at 2323 North Broadway, Santa Ana.
Here is Lou's invitation to the public:
Come visit our District Office and meet our staff, local elected officials, community leaders, business leaders, and maybe your neighbors!
Learn about new laws that will affect all Californians in 2010.
Enjoy refreshments, and holiday cheer!
Join Senator Correa in honoring a new class of Senior Young Senators from the Young Senators Program and local artist, Nguyen Van Bay,
whose artwork is currently on display in the State Capitol as a part of the California State Senate Contemporary Arts Exhibit.
Click here to see the event flier.
For more information or to RSVP, please email Jeanne.Tran@sen.ca.gov or call (714) 558-4400.