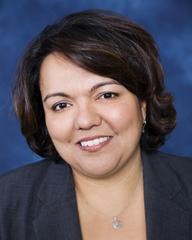 Community: Santa Ana Names BB&K Attorney as First Female Hispanic City Attorney
Sonia Carvalho Begins Duties in Unique Hybrid City Attorney Role to Save City Money
SANTA ANA, Calif. – The Santa Ana City Council has named Sonia Rubio Carvalho as the city's first-ever female Hispanic city attorney, hiring her to fill a unique hybrid position aimed at saving the city thousands of dollars in the long-term.
Carvalho will be a contract employee but perform all the duties of an in-house city attorney, which will save the city from paying her health and retirement benefits.
"I am honored to take on this unique role with Santa Ana, and I applaud them for thinking outside of the box and exploring a cost-savings business model," she said.
Carvalho, who has served as city attorney to several cities across Southern California during a 20-year legal career, will remain a partner at Best Best & Krieger LLP. The firm's lawyers act as city attorney to more than 30 cities across California and general counsel to dozens of special districts statewide.
With the Santa Ana City Council approving the contract with BB&K Monday night, Carvalho became the top legal chief of California's 11th largest city and Orange County's second-most populous city with 325,000 people.
"Sonia's qualifications and years of experience make her an outstanding match for Santa Ana," Mayor Miguel Pulido said. "I know the community will benefit from her expertise and sound approach to municipal law."
Typically, city attorneys in California are either appointed by a city council to be in-house and full-time or hired as an outside contract employee. Carvalho's position is a combination of the two, a hybrid model that has been used in a few cities such as Pasadena, Vista and Escondido over the years.
In her new role at Santa Ana, Carvalho will maintain an office at City Hall, where she will advise the City Council and the city's various commissions and departments, supervise seven deputy city attorneys and staff, and serve on the city's executive team.
The city will have access to the vast experience of some 200 attorneys at BB&K in eight offices across California and a ninth in Washington, D.C. In addition, the city will be able to rely on BB&K's immense legal database, various legal updates and free MCLE programs for their deputy city attorneys.
While the city can retain BB&K special counsel for cases requiring specific legal expertise, the city remains free to choose any firm to do the work, Carvalho said.
Born in Covina and raised in Azusa, Carvalho has served as city attorney for several cities, including Yorba Linda, Claremont, Azusa and Colton. A co-chair of BB&K's public policy and ethics group, she specializes in land use, ethics, open government laws and elections laws.
Carvalho was recognized as a "Super Lawyer" by Southern California Super Lawyer magazine in 2009 and 2011, and as one of Orange County's top lawyers by OC Metro magazine in 2009. She is a frequent speaker on topics related to ethics, the Brown Act and land use issues.
Carvalho received her bachelor's degree in social ecology from the University of California, Irvine. She received her law degree from the University of California, Los Angeles in 1992.
###
Contact Information:
Teresa Warren
BB&K
619-582-5750
twarren@tw2marketing.com