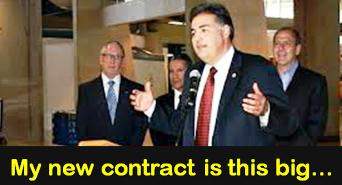 Santa Ana's new city manager is under scrutiny for allegedly making nearly $800,000 in pay, perks and pension this year, according to Cristy Fajardo at CBS News.
CBS reports that:

David Cavazos is receiving a $315,000 salary, making him one of the highest-paid employees in the state. It's the same amount he made before retiring as city manager of Phoenix, which is almost five times larger than Santa Ana.
He's also collecting another estimated $243,000 in perks and benefits his first year in Santa Ana, including a car, moving expenses and a housing allowance.
Now, add his pension; Cavazos is collecting $234,536.04, according to Toni Macarrone, a City of Phoenix public information officer.
All in all, it totals to approximately $792,000.
Cavazos pension payout
The Arizona Republic projects that David Cavazos' total annual pension benefits will exceed $220,000 a year when he retires next month. The calculation is based on the roughly $1.2 million in total compensation he is expected to have earned over the three years before his retirement.That sum is divided by three to arrive at his final average salary. That average is multiplied by his nearly 27 years of service, after which a multiplier of 2 percent is applied to arrive at an annual pension figure.
Here's the projected compensation breakdown:
Top three-years' salary: $815,000.
Sick-leave cash-out: $199,401.
Sick-leave buyback: $54,000.
Deferred compensation: $89,648.
Vacation cash-out: $31,500.
Vehicle allowance: $21,600.
Longevity bonuses: $12,000.
Cellphone allowance: $3,600.
One of the biggest factors in enhancing the city pension for Cavazos is the nearly 33 percent raise that Mayor Greg Stanton and the City Council approved for him late last year, retroactive to July 2012. That brought Cavazos' annual base pay to $315,000 — the same amount he will receive in the much smaller Santa Ana.
The Phoenix council-approved pay raise will significantly increase the amount Cavazos will be paid for his unused sick leave and vacation hours when he leaves, because those calculations will be made at his new hourly rate of $151.44, even though all his sick hours were accrued when Cavazos was paid less, according to the Arizona Republic.
Census figures show the median household income in Santa Ana is $54,000.  Our City Manager is pulling in almost $800K a year in pay and benefits.  Our City Council touted the fact that Cavazos is a Latino when they hired him but he has more in common with the people of Newport Beach than he does the people of Santa Ana.