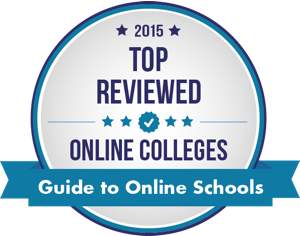 California Coast University Online, which is based in Santa Ana, ranked #1 in the 2015 Top Reviewed Online Colleges in the nation. These rankings are based on the recommendation rates from student reviews.
The list features 10 fully accredited schools offering online degrees that have the highest rates of recommendation by graduates who reviewed them. The new rankings aim to showcase schools that have proven to students that they provide an excellent education experience.
The list is published by the SR Education Group, a provider of authoritative online education resources based in Kirkland, Washington.
California Coast University boasts an impressive 91% recommendation rate among graduates of its online programs, making it our top reviewed online college. Many graduates have remarked on the challenging but supportive atmosphere of the school, as well as the excellence of the faculty. Rhonda, a CCU doctorate student said, "I appreciated their candid feedback and commitment to my success." The school's flexibility was also noted as exceptional; 2012 graduate Russell shared, "Without being able to complete courses when I had time, there was no way I would have been able to finish [my] degree."
"A perfect fit for the full-time working adult with family and community responsibilities with very flexible open enrollment and completion options, unless you are sponsored by your employer or military/VA tuition payment programs. Overall, the educational experience at CCU is even or above par with my previous traditional experiences. The economic value is by far CCU's greatest incentive to attend for a fraction of the cost of a state public or private-for-profit institution." – Phillip, December 18, 2013
About California Coast University
California Coast University's mission is to offer quality, affordable, flexible, online undergraduate and graduate educational programs in business, criminal justice, education, general studies, and psychology. To do this, we are committed to creating curriculum that is comprehensive and current, and combining it with faculty and staff dedicated to helping our students successfully reach their educational goals. Through this, our intention is to provide a learning environment that is valuable both personally and professionally to our students.