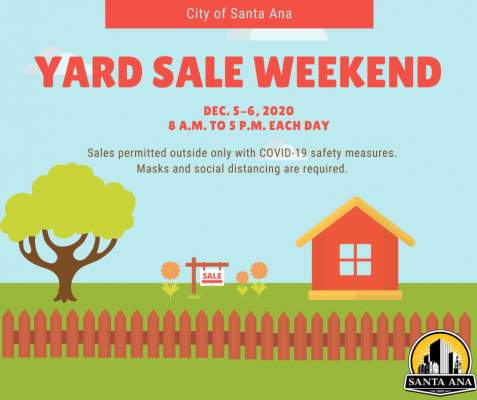 The City of Santa Ana is allowing yard sales to occur as scheduled on Dec. 5-6, 2020, if all participants follow COVID-19 safety rules.
Only outdoor sales are allowed (no indoor garage sales). Attendees must wear face coverings at all times and practice social distancing as required by State health orders.
Yard sales for residential properties take place the first full weekend of March, June, September and December each year. Sales may only occur on Saturday and Sunday, beginning no earlier than 8 a.m. and ending by 5 p.m. each day.
No permit is required, but vendors must follow City regulations. For more information, please visit www.santa-ana.org/pb/code-enforcement-division/garage-and-yard-sales.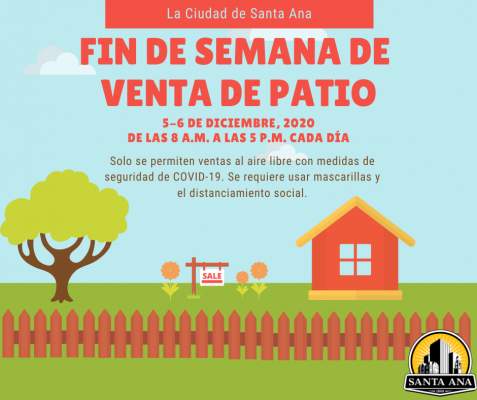 Venta de Patio Está Permitida 5-6 de Diciembre con Medidas de Seguridad de COVID
La Ciudad de Santa Ana está permitiendo que las ventas de patio se realicen según lo programado del 5 al 6 de diciembre de 2020, si todos los participantes siguen las reglas de seguridad de COVID-19.
Solo se permiten ventas al aire libre (no ventas de garaje en interiores). Los asistentes deben usar cubiertas faciales en todo momento y practicar el distanciamiento social como lo exigen las órdenes de salud estatales.
Las ventas de garaje para propiedades residenciales tienen lugar el primer fin de semana completo de marzo, junio, septiembre y diciembre de cada año. Las ventas solo pueden ocurrir los sábados y domingos, comenzando no antes de las 8 a.m. y terminando a las 5 p.m. cada día.
No se requiere permiso, pero los vendedores deben seguir las regulaciones de la Ciudad. Para obtener más información, visite www.santa-ana.org/pb/code-enforcement-division/garage-and-yard-sales.