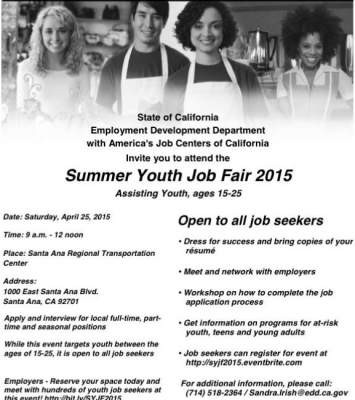 City of Santa Ana, Downtown Orange County
Community Alert: 20th Annual Summer Youth Job Fair – April 25th
Summer vacations will soon be here and so is the opportunity for youth to look at securing that perfect summer job. The Summer Youth Job Fair is a tool for job search success – whether job-seekers use it to find a full or part-time jobs, internships, or to explore careers.
Young job seekers between the ages of 15 to 25 can connect with employers at the 20th Annual Summer Youth Job Fair on Saturday, April 25, 2015, from 9 a.m. to 12 noon at the Santa Ana WORK Center (1000 E. Santa Ana Blvd., Santa Ana, CA).
"Summer jobs give young people valuable work experience and hands-on learning that prepares them for future success," stated Councilmember Michele Martinez. "The Summer Youth Job Fair helps make sure today's youth get the training and skills they need to compete in tomorrow's workplace and helps ensure our local businesses thrive," Martinez added.
In preparation of the fair, job seekers are encouraged to dress in business attire, bring copies of their résumé, and have the necessary information to complete job applications, including a picture identification and social security card. There is no fee for job seekers or businesses to participate.
Over 45 businesses are expected to participate in the job fair, including UPS, Lowe's, and El Pollo Loco. In addition, Network Kinection will provide registered job seekers with a mini-workshop to give participants an overview on how to successfully find employment at a job fair.
Job Fair Tips:
• Recruiters use job fairs as a way to pre-screen applicants to see how the applicant will fit into their organization.
• When speaking with recruiters, job seekers should ask thoughtful questions about the company; and when responding to a recruiter's question, keep responses brief.
• Keep in mind, the most successful candidates follow the recruiter's instructions, such as applying online for the company's positions.
The event is sponsored by the City of Santa Ana, the State Employment Development Department's, and the Orange County Employer Advisory Council. For additional information interested job seekers may call (714) 518-2364.
The Santa Ana WORK Center is located at 1000 East Santa Ana Blvd., Santa Ana CA 92701, within the Santa Ana Regional Transportation Center. Free parking is available in the structure at the south end of Santiago Street.
###