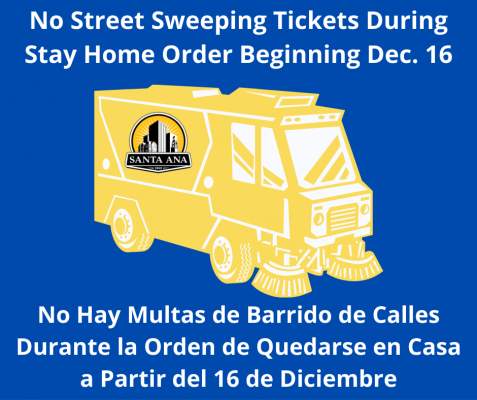 Please be advised that the City of Santa Ana will continue to provide scheduled street sweeping services during the City's temporary stop on issuing street sweeping tickets during the Governor's Regional Stay Home Order. No street sweeping tickets will be issued until January 4, 2021, or later if the Stay Home Order is extended.
During this period, residents are still asked to move their vehicles whenever possible on street sweeping days to help the City clean your neighborhood streets and keep Santa Ana beautiful. Clean streets are important to neighborhoods and the City as a whole and offer many benefits such as neighborhood pride by enhancing the visual curb appeal of your home and neighborhoods.
All other City parking fees, rules, regulations, and citations will remain in effect.
For more information on street sweeping, visit
https://www.santa-ana.org/pw/street-sweeping or
https://www.santa-ana.org/pw/frequently-asked-questions
El barrido de calles de la ciudad continuará durante la exención de citaciones por barrido de calles durante la orden de quedarse en casa
Por Favor tenga en cuenta que la Ciudad de Santa Ana continuará proporcionando servicios de barrido de calles como programados durante la parada temporal de emitir multas de barrido de calles durante el período de la orden de quedarse en casa regional del gobernador. No se emitirán multas de barrido de calles hasta el 4 de enero de 2021 o en una fecha más tarde si la Orden de Quedarse en Casa se extiende.
Durante este período, se les pide a los residentes que muevan sus vehículos siempre que sea posible en los días de barrido de calles para ayudar a mantener las calles de la Ciudad limpias y su vecindario hermoso. Las calles limpias son importantes para los vecindarios y la ciudad en su conjunto y ofrecen muchos beneficios como el orgullo del vecindario, al mejorar el atractivo visual de su hogar y vecindarios.
Todas las demás tarifas de estacionamiento, reglas, regulaciones y citaciones de la Ciudad permanecerán en vigencia.
Para obtener más información barrido de calles, visite
https://www.santa-ana.org/pw/street-sweeping o
https://www.santa-ana.org/pw/frequently-asked-questions