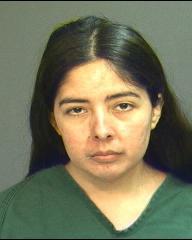 ORANGE COUNTY DISTRICT ATTORNEY PRESS RELEASE
Date: February 9, 2015
MOTHER CONVICTED OF MURDERING 2-MONTH-OLD BABY GIRL BY DROWNING HER IN BATHTUB FOUND SANE BY SAME JURY
SANTA ANA – A jury determined today that a mother was legally sane when she murdered her 2-month-old baby girl by drowning her in a bathtub. Lucero Carrera, 30, Santa Ana, was previously found guilty by the same jury, Jan. 26, 2015, of one felony count each of first degree murder and assault on a child under 8 years old with force likely to produce great bodily injury resulting in death. Carrera faces a maximum sentence of 25 years to life in state prison at her sentencing March 27, 2015, at 9:00 a.m. in Department C-45, Central Justice Center, Santa Ana.
As Carrera entered pleas of "not guilty" and "not guilty by reason of insanity," the trial was held in two phases. The first phase was the guilt phase, during which jurors heard evidence about the crime and the prosecution proved beyond a reasonable doubt that the defendant is guilty of the crime. In the second phase, the sanity phase, the same jury considered evidence and determined Carrera was legally sane at the time of the crime. When a defendant pleads "not guilty by reason of insanity," the burden is on the defense to prove that the defendant was more likely than not legally insane when she committed the crime. To be considered legally insane, the defense must prove that the defendant had a mental disease or defect when she committed the crime, and also that this defect kept the defendant from understanding the nature of her act or from understanding that his act was morally or legally wrong.
In June 2012, Carrera lived in a trailer in Santa Ana with her mother and her 2-month-old baby daughter Kimberly Gutierrez.
At approximately 4:20 p.m. on June 29, 2012, immediately after Carrera ingested a large quantity of pills in an attempt to kill herself, she filled her Jacuzzi bathtub halfway with water and intentionally murdered her baby by drowning her in the tub.
Carrera's mother returned home from shopping and discovered baby Kimberly face-down in the bathtub.
The Santa Ana Police Department, who investigated this case, responded to the scene. Carrera was located in the trailer and transported to the hospital.
Senior Deputy District Attorney Jim Mendelson of the Homicide Unit is prosecuting this case.
###
TONY RACKAUCKAS, District Attorney
Susan Kang Schroeder, Chief of Staff
Office: 714-347-8408
Cell: 714-292-2718