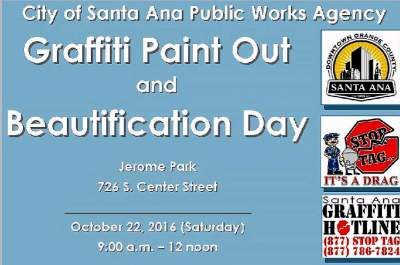 Community: Santa Ana Beautification Day & Graffiti Paint Out Dia de Embellecimiento y Eliminación de Graffiti en Santa Ana
Join the City of Santa Ana, Public Works Agency for the Community Graffiti Paint-out and Beautification Day. This is a combined effort by City-contracted graffiti removal crews and volunteers from the community. Mark your calendars for Saturday, October 22, 2016 from 9:00 a.m. to 12:00 p.m. (noon).

We'll provide the tools, gloves, paint and training. All you need to do is join us to help beautify our community. The graffiti clean-up day will begin at Jerome Park and will proceed throughout the park and the surrounding neighborhood.
Please note: Pre-registration is necessary by calling (714) 647-3306 on or before Wednesday, October 19, 2016. Parents must complete and sign the waiver so that their children and young adults can volunteer. Anyone between the age of 13 and 17 years old must have this waiver signed. Anyone under 13 years old must be accompanied by an adult. We look forward to working with everyone on this event.
Únete con la agencia de obras públicas de la Ciudad de Santa Ana, para el Dia de Eliminación de Graffiti y de Embellecimiento. Este es un esfuerzo conjunto con el contratista de la eliminación de graffiti y voluntatios de la comunidad. Marquen sus calendarios para el sábado, 22 de octobre de 2016 de las 9:00am hasta el 12:00pm mediodía.
Le proporcionaremos la herramienta, guantes, pintura, y entrenamiento. Todo lo que necesitan hacer es unirse a nosotros para ayudar a embellecer nuestra comunidad. El día de eliminación de graffiti se iniciará en el parque de Jerome procederá alrededor del parque y el vencindario circundante.
Por favor note: la preinscripción es necesaria llamando al (714) 647-3306 en o antes del Miércoles, 19 de octobre de 2016. Padres deben completar y firmar el formulario para que sus niños y jóvenes puedan ser voluntarios. Entre la edad de 13 a 17, deben tener el formulario firmado por sus padres. Cualquier persona menor de 13 años debe ser acompañado por un adulto. Esperamos con gran anticipación trabajar con todos en este evento.