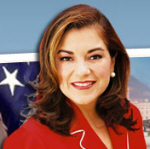 Congresswoman Loretta Sanchez, Representing California's 47th Congressional District
PRESS RELEASE, FOR IMMEDIATE RELEASE: September 16, 2011
MEDIA CONTACT:Adrienne Watson 202-309-0825
REP. LORETTA SANCHEZ STATEMENT ON NATIONAL HISPANIC HERITAGE MONTH
WASHINGTON, D.C. – Congresswoman Loretta Sanchez (CA-47) released the following statement marking Hispanic Heritage Month, which started September 15.
"We take this month to celebrate the varied and vast contributions of Latinos to our nation," said Sanchez. "Latinos are the largest and fastest growing minority population and as we grow as a community we have worked to enhance this country economically and socially. Orange County has a vibrant and active Hispanic community and I am grateful for the privilege to represent them in Congress."
Congresswoman Loretta Sanchez is proud to represent California's 47th Congressional District, which includes the cities of Anaheim, Garden Grove, Santa Ana, and parts of Fullerton in Orange County. She serves as Ranking Member of the House Armed Services Subcommittee on Strategic Forces and a senior member of the Committee on Homeland Security. Rep. Sanchez is also a member of the fiscally conservative Blue Dog Coalition and sits on the bipartisan, bicameral Joint Economic Committee.
# # #
United States House of Representatives
1114 Longworth House Office Building • Washington, DC 20515
Phone: 202-225-2965 • Fax: 202-225-5859