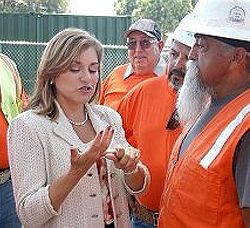 Congresswoman Loretta Sanchez, Representing California's 47th Congressional District
PRESS RELEASE, FOR IMMEDIATE RELEASE: August 5, 2011
MEDIA CONTACT: Adrienne Watson 202-309-0825
REP. LORETTA SANCHEZ ON JULY JOBS REPORT
WASHINGTON, D.C. – Congresswoman Loretta Sanchez (CA-47) today issued the following statement regarding news that the economy added a total of 117,000 jobs in July and the unemployment rate fell slightly to 9.1 percent.
"Though I am pleased to see that employers added 117,000 jobs in July, it is important that we in Congress continue to focus on job creation," said Sanchez. "Our economy has made slow but steady progress to recover from the worst recession since the Great Depression. Unfortunately, this progress is fragile and reversible. Democrats in Congress are committed to pushing forward our "Make it in America" agenda that will reinvest in American manufacturing, small businesses and most importantly our infrastructure. We still have a long way to go until our economy is in the clear and this summer's partisan wrangling has done the American people no favors. We must join together to create jobs and help our economy grow. Growth is what will reduce our nation's deficit."
Congresswoman Loretta Sanchez is proud to represent California's 47th Congressional District, which includes the cities of Anaheim, Garden Grove, Santa Ana, and parts of Fullerton in Orange County. She serves as Ranking Member of the House Armed Services Subcommittee on Strategic Forces and a senior member of the Committee on Homeland Security. Rep. Sanchez is also a member of the fiscally conservative Blue Dog Coalition and sits on the bipartisan, bicameral Joint Economic Committee.
# # #
United States House of Representatives
1114 Longworth House Office Building • Washington, DC 20515
Phone: 202-225-2965 • Fax: 202-225-5859