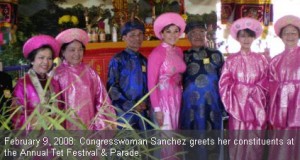 Congresswoman Loretta Sanchez, Representing California's 46th Congressional District
PRESS RELEASE, FOR IMMEDIATE RELEASE: July 23, 2013
MEDIA CONTACT: Barb Solish, 202-226-8373, Barb.Solish@mail.house.gov
SANCHEZ HOLDS PRESS CONFERENCE CALLING ON VIETNAMESE PRESIDENT TO HALT HUMAN RIGHTS ABUSES AHEAD OF MEETING WITH PRESIDENT OBAMA
Remarks as Prepared for Delivery
WASHINGTON, D.C. – Representative Loretta Sanchez (CA-46) today spoke at a press conference calling on the Vietnamese President, Mr. Truong Tan Sang, to halt human rights abuses ahead of his meeting with President Obama. Below are her remarks as prepared for delivery.
"As you know, this press conference comes in advance of the President of the Socialist Republic of Vietnam, Mr. Truong Tan Sang's visit to the White House on Thursday.
"We stand here today because the deteriorating human rights situation in Vietnam is unacceptable.
"Over 50 Vietnamese human rights advocates have been held in arbitrary detention this year alone, a clear indication that the Hanoi regime has intensified its efforts to crack down on the rights of advocates, bloggers and grassroots organizers.
"Hanoi is muting the voices of its people by censoring the Internet, sponsoring cyber-attacks, blocking access to websites and infiltrating the private Internet accounts of activists.
"I find it even more troubling that the Vietnamese government seeks to increase its weapons arsenal for a military whose top priority is security of the communist regime.
"That is why we have strived to educate Congress and work with the Administration and the State Department to confront the Hanoi regime's atrocious human rights policies.
"The Congressional Caucus on Vietnam has consistently urged the Administration to make human rights a priority by designating Vietnam as a Country of Particular Concern and by making human rights the foundation for the two countries' bilateral relationship.
"As the second highest ranking Democrat on the House Armed Services Committee, I believe clear benchmarks must be established for the Vietnamese government.
"Vietnam must honor its citizens' basic rights, including 1) religious liberty, 2) freedom of association and assembly, and 3) freedom of opinion in order to improve its relations with the United States.
"I have met with the former United States Trade Representative Ron Kirk – whose agency is tasked with all trade negotiations – to discuss the possible impacts of the Trans-Pacific Partnership that the United States is negotiating with Vietnam.
"The Ambassador assured me the Administration will stress that improving human rights in Vietnam is vital to developing a more cooperative trade relationship with Vietnam.
"I will continue to work with the newly appointed United States Trade Representative, Ambassador Michael Froman, to use this opportunity to strengthen human rights protections for the people of Vietnam.
"I will stress again, a free trade agreement – specifically the Trans-Pacific Partnership – must be met with benchmarks and we call upon President Obama to carry this message on Thursday.
"In a recent joint letter family members of blogger Nguyen Van Hai, human rights attorney Le Quoc Quan and 33 other families of the victims of government-orchestrated repression in Vietnam called on the President to make human rights issues a priority for a continuing successful bilateral relationship. Today, we echo those sentiments and send a strong message to President Obama.
"As we expand our nation's diplomatic relations with the Vietnamese government leaders and further engage in the Pacific, we must urge them to embrace reforms that would improve governance, protect human rights, and advance political freedoms."
###
Congresswoman Loretta Sanchez is proud to represent California's 46th Congressional District, which includes the cities of Anaheim, Santa Ana, and parts of the cities of Garden Grove and Orange in Orange County. She serves as Ranking Member of the House Armed Services Subcommittee on Tactical Air and Land Forces and the second ranked Democrat on the Committee on Homeland Security. Rep. Sanchez is also a member of the fiscally conservative Blue Dog Coalition and sits on the bipartisan, bicameral Joint Economic Committee.