The SAPD arrested a woman this morning on suspicion of making terrorist threats toward a security guard outside the Social Security Administration office, according to the O.C. Register.
The SAPD received calls about the woman's actions this morning and responded at about 9:15 a.m. to the Social Security Administration branch that is located on the fifth floor of 1851 E. 1st St.
The suspect, whose name was not revealed by the SAPD, appears to have walked up to the fifth floor before she started berating the security officer, who was by himself.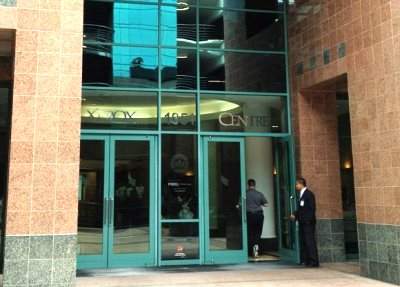 Then she escalated the situation by threatening to take the security officer's gun and shoot everyone in the building.
The woman kept acting aggressively towards the unfortunate security guard and federal employees before SAPD officers showed up and arrested her.
The suspect turned out to be on parole for assault with a deadly weapon and she was charged today on suspicion of making terrorist threats before she was whisked off to the Santa Ana city jail.
There were no injuries reported in this incident.
This incident happened just north of the 5 Freeway, just south of the State Compensation Insurance Fund building, in Santa Ana's Ward 1, which is represented by Mayor Pro Tem Vince Sarmiento.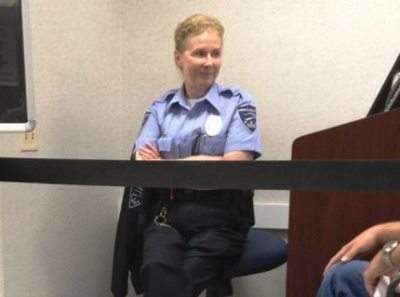 The Yelp community has had a few unpleasant things to say about the Social Security Administration office in Santa Ana, including their security guard, including these excerpts from their Yelp page:
This is a terrible place. It's like a scary alternate universe where you disappear for hours and all you want to do is get back to the world you know. It is crowded and the wait is long. Stuff happens here that isn't normal.
The worst service ever… so disappointed… disrespectful….
Awful experience. This office has SUCH a long wait. I came in on a Monday afternoon, every chair was taken in the waiting area and two lines were formed outside of the door. I asked the security guard (C. Daws) if there was a better time to come back. She was totally rude and looked truly bothered that I dared to speak to her while she was "working" aka standing around doing nothing.
Today at the SSA office the security guard C.Daws belittled, berated, bullied and bitched at everyone. Small children, very elderly people, even a clearly special needs fella!
This security guard (C. Daws) clearly shows the hatred she has for her job with your unwelcoming approach. In my observation she's denied help to those who are new to the system with language barriers and or physical disabilities, yet she becomes attentive to next pair of blonde hair with blue eyes who walks in the door.
I went to sign my baby up for a social and it still hasn't arrived once again I have to go in there and wait forever to do it all over again for the 3rd time.
Long wait just to get a replacement SSCard. Typical of any government building there's a long wait and only 3 windows.
 Long wait, crying loud kids, it smells and the seats are dirty.
Be polite and patience. The security officer is a bad ass!