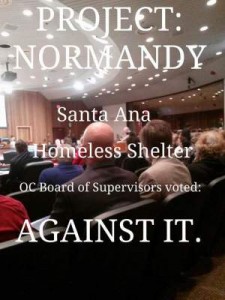 Graphic by Igmar Rodas
The Orange County Board of Supervisors has reportedly voted not to place a homeless shelter at a proposed location on Normandy Place in East Santa Ana.
The proposed location was in the middle of a poor Latino neighborhood and was close to schools and parks.
Supervisor Janet Nguyen, who represents the area,  steadfastly refused to meet with local residents who were opposed to the Normandy Place location.
Santa Ana City Councilman Vince Sarmiento also refused to meet with residents until after the Supervisors had initially chosen the proposed location.
Reportedly the Supervisors will now consider a vacated OCTA bus facility in Downtown Santa Ana.  The may also sue the City of Santa Ana,  whose City Council voted for an unofficial moratorium on plans to develop the Normandy Place location at their last Council meeting.
The shelter should be located in Downtown Santa Ana,  where the County homeless services are located. The Santa Ana Police Department is also located in Downtown Santa Ana.
Hopefully the next Supervisor to represent the First District will actually care about the people of Santa Ana.