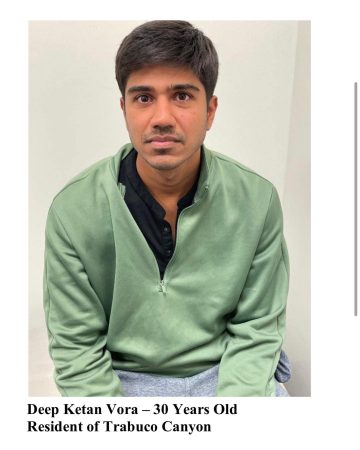 Deep Ketan Vora, 30, a Lake Forest man, was arrested by Tustin Police and is facing charges related to a series of rapes and sexual assaults of women he met on a dating site, according to the OCDA.
Vora was arrested at LAX on Sunday as he was returning from a trip to India.
Vora's felony charges include counts of rape by force, one felony count of false imprisonment affected by violence, menace, fraud or deceit, one felony count of attempted kidnapping to commit rape, and three felony counts of sexual penetration by foreign object and force. Vora was also charged with one count each of forced oral copulation, assault with the intent to commit a sexual offense and sexual battery.
The OCDA is alleging that Vora attacked three women he met on a dating site between September 2021 and September 2022.
The allegations include:
Vora allegedly took a victim to a Tustin apartment complex where he does not live, to use their a pool and jacuzzi.
Vora allegedly pinned one woman down and raped her after she tried to leave from an Irvine hotel room last September. Vora allegedly tried to pull her back into the room by her ankle, although she was ultimately able to escape.
Vora allegedly sexually assaulted another woman at two different locations before leaving her stranded at a restaurant, in In December of 2021.
Most recently, this September, Vora allegedly met up and attacked a third woman at the Tustin jacuzzi after arranging on the dating site to meet her there.
Vora called himself "Jay" on the dating app. The OCDA did not reveal which dating app was used by Vora.
Authorities ask anyone with additional information about Vora, or who may have been victimized by him, to contact Tustin police Detective Charles Carter at 714- 573-3249 or ccarter@tustinca.org.