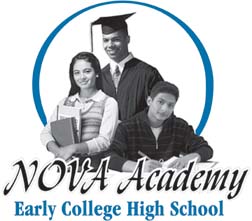 Santa Ana's Nova Academy Early College High School, which serves students from the 8th to the 11th grades, is having an Open House on March 22, from 6:30 p.m. to 8:30 p.m., at their campus, which is located at 2609 W. 5th St., in Santa Ana.  Refreshments will be served.  Parents are invited!
As a charter school that works in partnership with Olive Crest, Santa Ana Unified School District and Santa Ana College (SAC), NOVA students receive both high school and college credits. Click here to read more about the educational programs* and admission requirements.
Students begin attending courses at Santa Ana College as early as the 10th grade and have the opportunity to begin vocational courses. The 11th and 12th grades (and 13th if needed) will focus on individualized learning and career plans developed by NOVA staff.
Some of the features of this award-winning charter school include:
Attending high school and college at the same time
All college fees, books, and instructional materials for qualified students
Opportunity to graduate with a high school diploma and an A.A. Degree at the same time or attain transferrable college credits
A small personal learning environment
Academic support and tutoring for college courses
Caring and supportive staff
Family environment with easy access to teachers and staff
An individualized high school and college road map designed for each student
Clubs and activities
Assistance in writing college entrance essays, accessing college scholarships and financial aid
Monthly tours of college campuses and universities
If you have any questions, please call Nova Academy (714) 569-0948.
Click here to see the new brochure for Nova Academy.  Click here to read the flier for this event.  Click here for the flier in Spanish.
—————————————————————————————————————————————————–
Great educational and professional opportunities will come your way with University of Phoenix Online.