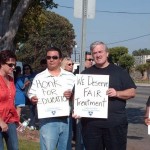 The new federal bill that is supposed to save teacher's jobs may not, in the end, do much for teachers in California.  And I don't think this funding can be used to save classified jobs either.
The bill could provide up to $70 million to Orange County's cash-strapped school districts, allowing them to rescind scores of teacher layoffs, county officials said Thursday, according to the O.C. Register.
The problem is that our State Legislature still hasn't approved a new budget.  We don't know how much further they might cut the state education budget.
"State lawmakers could use the federal funds to fill in gaps in funding already allocated to districts, or they could count the money against other budget shortfalls, meaning districts could eventually receive far less money than they may expect," according to County Superintendent Bill Habermehl.
Some district officials are saying that the new funds might help them prevent future layoffs, but this year's budgets are already set – and they are brutal.
Click here to read the rest of this post.