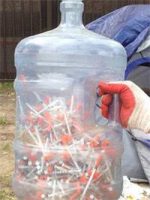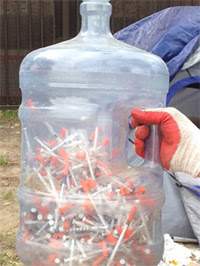 Needle Giveaway Postponed After Orange County Files Lawsuit
Santa Ana, CA – The Orange County Needle Exchange Program (OCNEP) has postponed its planned mobile needle giveaway program until September. This comes after the County of Orange filed a lawsuit on Friday and is planning to seek a temporary restraining order in court to block the program from beginning operation on Monday, August 6th.
In an interview with the Associated Press, OCNEP officials announced "they won't start until September to have time to collaborate with local officials."
Chairman of the Orange County Supervisors, Supervisor Andrew Do called for an emergency meeting on Friday to take legal action after the California Department of Public Health approved the needle giveaway on Tuesday.
Council Members and Public Safety Officials from the four cities impacted by this program, Santa Ana, Anaheim, Costa Mesa and Orange, spoke at the special Board of Supervisors meeting to express their support of Chairman Andrew Do's proposal to take legal action challenging the needle giveaway. Earlier in June of 2018, officials from these cities had sent letters to the State to oppose this needle giveaway program.
Hours after the Orange County Board of Supervisors unanimously approved Supervisor Do's direction to take legal action, the Costa Mesa City Council unanimously voted to join the County's lawsuit.
"I applaud the OCNEP for delaying their program until September to have time to coordinate with local officials," said Supervisor Do.
The concession by OCNEP, if followed through, may make the application for a restraining order temporarily unnecessary; however, the County is still challenging the approval process and the scope of work allowed by the California Department of Public Health.
Needle Giveaway Poses Public Health Risk
From 2016 to 2018, the Orange County Needle Exchange Program handed out thousands of free syringes to at least 12,000 people in Santa Ana, under a permit approved by the city.
Many of those needles ended up in homeless encampments at the Santa Ana Riverbed and Civic Center. This winter, county employees removed 14,000 needles– potentially contaminated with infectious diseases — from just a four mile stretch of public land.
Santa Ana revoked the program's permit to operate earlier this year citing complaints from concerned parents, educators and law enforcement officials- outraged by the number of dirty needles discarded near areas with children. OCNEP then exploited a loophole in state law by organizing a "mobile" program.
"OCNEP has a responsibility to have a realistic plan that ensures all needles distributed are properly disposed of; that simply was not the case when they operated at the Civic Center here in Santa Ana," said Supervisor Do. "Our lawsuit has been filed, but I look forward to working with OCNEP to find a solution that works for our community."
Supervisor Do and other County and City officials voiced concerns regarding the public health and safety impacts of the program. Topping that list are questions about how the program plans to ensure the proper disposal of all needles and concerns about the potential flooding of communities with needles due to the excessive "N plus 20" exchange rate.
In an interview with OC Weekly, OCNEP cited that they use an "N+20" model where you can turn in 1 dirty needle and receive that number plus 20, for up to 200.
"The Board of Supervisors has taken significant steps to clean up our streets, particularly with respect to the homeless and those battling with drug addiction. We will not this needle giveaway program compromise the safety of our residents, especially near schools, libraries and parks," said Supervisor Do. "Hopefully these talks produce solutions that put public safety first and address our collective concerns regarding the needle giveaway."
Further information on the proposed talks is forthcoming.