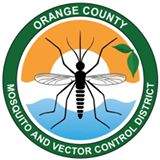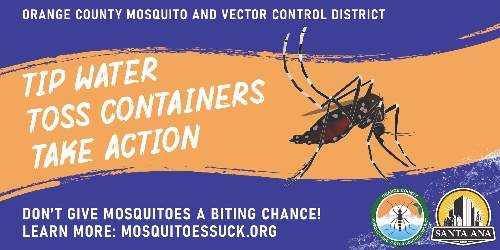 The Orange County Mosquito and Vector Control District (OCMVCD) is observing an increase in mosquito activity in urban and coastal areas of the County. This increase marks the sixth week in a row that OCMVCD has recorded higher than average counts. Mosquito collections at this time last year averaged 24 mosquitoes per trap. This year, however, the District's traps have caught an average of 110 mosquitoes per trap, an increase that is nearly five times higher than last year's numbers. As shown in the graph, this year's mosquito counts are double the County's 5-year average.

"High mosquito abundance is one factor that increases the risk for West Nile virus (WNV) transmission when virus activity is present. However, OCMVCD currently has not detected any WNV in our surveillance program," says Robert Cummings, Director of Scientific Services.
Three surrounding counties (Los Angeles, Riverside, and San Diego) have detected West Nile virus in their mosquito samples. This early season virus activity in the region is concerning when coupled with high mosquito abundance.
Based on the high mosquito population in areas of Orange County, the District has implemented additional outreach to residents and will continue to identify and treat any water sources that result in mosquito breeding. It is essential for all residents in Orange County to be active in eliminating mosquito breeding in and around their properties to help reduce the number of adult mosquitoes.
Residents should take the following precautions to help reduce the chances of breeding mosquitoes:
• Dump and drain any containers filled with water at least once a week
• Clean and scrub bird baths and pet water bowls weekly
• Do not transport or share plant clippings rooted in water
• Drill a hole or puncture containers to eliminate standing water
To prevent mosquito bites, take action, and follow these tips:
• Apply mosquito repellents to exposed skin before going outdoors
• Wear repellent containing DEET®, Picaridin, IR3535, or oil of lemon eucalyptus
• Close all unscreened doors and windows to prevent mosquitoes from entering your home or space; repair broken or damaged screens
• Wear long-sleeved shirts and long pants, and opt for lighter-colored clothing
Mosquito control is a shared responsibly. Learn how you can take charge of your yard: www.ocvector.org
La Alta Abundancia de Mosquitos Causa Preocupación en el Condado de Orange
(NOTA: Este comunicado de prensa fue proveído por el Distrito de Control de Mosquitos y Vectores del Condado de Orange.)
El Distrito de Control de Mosquitos y Vectores del Condado de Orange (OCMVCD) está observando un aumento en la actividad de mosquitos en áreas urbanas y costeras del Condado. Este aumento marca la sexta semana consecutiva que OCMVCD ha registrado conteos más altos que el promedio mensual. El año pasado el número de mosquitos coleccionados en este tiempo tuvo un promedio de 24 mosquitos por trampa. Este año, las trampas del Distrito han atrapado un promedio de 110 mosquitos por trampa, un aumento que es casi cinco veces más que las cifras del año pasado. Como se muestra en el gráfico, el recuento de mosquitos de este año es doble el promedio de los últimos 5 años en el Condado.
"La alta abundancia de mosquitos es un factor que aumenta el riesgo de transmisión del virus del Nilo Occidental (West Nile Virus: WNV) cuando hay actividad viral. Sin embargo, OCMVCD actualmente no ha detectado WNV en nuestro programa de vigilancia," dice Robert Cummings, Director de Servicios Científicos.
Tres condados circundantes (Los Angeles, Riverside y San Diego) han detectado el virus del Nilo Occidental en sus muestras representativas de mosquitos. Esta actividad del virus a principios de la temporada en la región es preocupante cuando se combina con una alta abundancia de mosquitos.
Basado en la alta población de mosquitos en las áreas del Condado de Orange, el Distrito ha implementado actividades de divulgación adicionales para los residentes y continuará identificando y tratando cualquier fuente de agua que resulte ser criadero de mosquitos. Es esencial que todos los residentes del Condado de Orange participen activamente en la eliminación de sitios de crianza de mosquitos dentro y alrededor de sus propiedades para ayudar a reducir la cantidad de mosquitos adultos.
Los residentes deben de tomar las siguientes precauciones para ayudar a reducir las posibilidades de criar mosquitos:
• Vacíe los contenedores llenos de agua al menos una vez a la semana.
• Limpie y friegue los baños de aves y cuencos de agua para mascotas semanalmente
• No transporte ni comparta recortes de plantas enraizados en agua.
• Taladre un hoyo o perfore los contenedores para eliminar agua estancada.
Es escencial prevenir las picaduras de mosquitos, OCMVCD ofrece los siguientes consejos:
• Apliques repelentes de mosquitos a la piel expuesta antes de salir al aire libre.
• Use repelente que contenga DEET®, Picaridin, IR3535, o aceite de eucalipto de limón
• Cierre todas las puertas y ventanas sin mosquiteros para evitar que los mosquitos entren a su hogar o espacio; repare los mosquiteros rotos o dañados
• Use camisas de manga larga y pantalones largos, y opte por ropa de colores más claros.
El control de mosquitos es una responsabilidad compartida. Aprenda cómo tomar cargo de su propiedad: www.ocvector.org