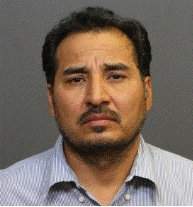 ORANGE COUNTY DISTRICT ATTORNEY PRESS RELEASE
January 14, 2015
Case # 12HF2453
MAN CONVICTED OF SEXUALLY ASSAULTING TEEN RELATIVE AND SOLICITING HER KIDNAPPING TO PREVENT HER FROM TESTIFYING
FULLERTON – A man was convicted today of sexually assaulting a teenage relative and soliciting her kidnapping to prevent her from testifying against him at trial. Jesus Acosta-Inchaorrondo, 61, Laguna Hills, pleaded guilty to a court offer of one felony count each of forcible rape, sodomy by force, solicitation to commit kidnap, dissuading a witness by force or threat, and one misdemeanor count of violating a protective order, with a sentencing enhancement for crime-bail-crime. The People objected to the offer which stipulates that the defendant could only receive a sentence of up to 18 years in state prison. The court determined that if the defendant deserved a higher sentence at his sentencing, Acosta-Inchaorrondo would be able to withdraw his guilty plea and elect to have a jury trial. Acosta-Inchaorrondo faces a maximum sentence of 32 years and eight months in state prison at his sentencing March 20, 2015, at 8:00 a.m. in Department N-13, North Justice Center, Fullerton.
On Aug. 23, 2012, Acosta-Inchaorrondo took his teenage relative, Jane Doe, to a hotel in Costa Mesa where he booked a room for the evening. While in the hotel room, the defendant physically assaulted the victim. ripped off her clothes, and forcibly raped her. He verbally threatened the victim and then forcibly sodomized her.
In the early morning hours, while the defendant was asleep in the hotel room, the victim snuck down to the hotel lobby and told the clerk about the sexual assault, who then contacted the Costa Mesa Police Department (CMPD). CMPD investigated this case and arrested the defendant on Aug. 27, 2012.
On Sept. 7, 2012, Acosta-Inchaorrondo was released from custody after posting $100,000 bail using funds raised by his church congregation at Iglesia Cristo Rompe Las Cadenas de OC.
In late October 2012, Acosta-Inchaorrondo solicited a man to kidnap Jane Doe and take her to Mexico to prevent her from testifying against him in the sexual assault case. The man told the defendant that he would consider it.
On Oct. 24, 2012, the man contacted CMPD to report the kidnapping plot. A meeting was arranged between the defendant and an undercover CMPD detective for that day. Believing the undercover detective could facilitate the kidnapping, Acosta-Inchaorrondo negotiated a price and outlined a plan for Jane Doe to be taken to Mexico and left on the street with a warning not to return. The defendant provided a description of Jane Doe with details about how to recognize her, where she goes to school, and the best place to kidnap her.
Following the meeting, Acosta-Inchaorrondo was arrested by additional CMPD officers, who had been observing the meeting from a distance.
Deputy District Attorney Vanessa Woods of the Sexual Assault Unit is prosecuting this case.
###