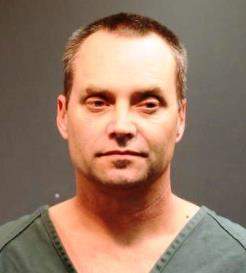 Santa Ana Police Department
Advisory: SAPD arrests suspect in fatal collision for Felony Hit and Run, and Second Degree Murder.
Arrested: Dallas Frank Reichstein III (45) Santa Ana
On 1/28/2015, officers responded to the scene of a traffic collision involving an SUV that struck a pedestrian, Pearleen Hopkins, 59, in the area of 1100 W. MacArthur Boulevard and fled the scene.
At about 2210 hours, a 2002 Nissan Xterra driven by a male adult was traveling west on MacArthur and struck a female adult pedestrian crossing the street mid-block outside of any crosswalk. The Nissan, driven by Dallas Frank Reichstein III, continued driving making no attempt to stop or check on the pedestrian.
Hopkins was attempting to cross the roadway from south to north when she was hit and succumbed to injuries sustained in the collision. Responding paramedics pronounced her deceased at the scene. Witnesses at the scene stated the Nissan was driving at an excessive speed when the pedestrian was hit.
The Nissan was stopped by police moments later in a nearby residential area. The driver, Reichstein, displayed symptoms consistent with driving under the influence of alcohol. Upon further investigation, Reichstein was arrested and booked at Santa Ana Jail on charges of Felony Hit & Run, and Second Degree Murder due to a prior DUI conviction.
Any person who may have witnessed this collision or has additional information is asked to call Investigator Bao at (714) 245-8214.
###