Santa Ana Police Department
Advisory: Suspect In Assault Road Rage And Vandalism Case Now In Custody
UPDATE: Arrested: Corbalan Jorge Hernandez (57) Homeless
On 3/28/17 a suspect vandalized the interior of a Chevron gas station in 2100 block E. McFadden. The incident was captured on surveillance video and has gotten national media attention. Today at 1600 hours employees in 2700 block S. Fairview saw the suspect and recognized him from the video. Our officers responded and took him into custody without incident. The suspect has been booked into SAPD Jail for Felony Vandalism.
Original:
Suspect Description: Male Hispanic 45-55, 5'5", Thin Build, short grey combed back hair.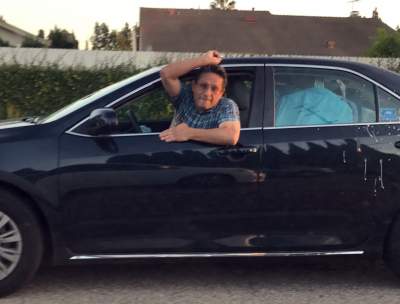 On March 28, 2017 at 6:25 p.m., officers responded to the Chevron gas station on the 2100 of E. McFadden. The clerk called 911, reference a man who had been loitering and harassing customers gassing up. She told the operator, she confronted the man, and asked him to leave. He followed her back into the store, where they got into a verbal confrontation. He then began throwing items from the store at her. He left as she called 911, but returned shortly and began causing major damage to the store and attempted to assault the clerk. The man then fled in his vehicle. All of this was captured by the store's surveillance cameras.
At 7:00 p.m., officers were again called to the fire station on W. McFadden reference a road rage incident. The female caller stated a man repeatedly cursed at her, threw items out of his car at her and eventually boxed her in, got out of his car and began punching her passenger side window. The driver eventually was able to drive away and contact police. The victim took photos of the driver.
Investigators believe based on surveillance videos and the road rage victim's photos that the same man committed both crimes. We are releasing the video and the photos in hopes of identifying this suspect.
If you have any information about the identity of this individual, please contact Investigator Laura Delisle at (714) 245-8647 or Orange County Crime Stoppers at 1-855-TIP-OCCS.