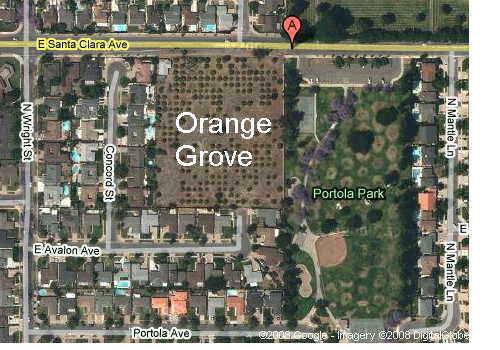 City of Santa Ana, Community Alert
Community: HISTORIC RESOURCES COMMISSION TO TAKE PUBLIC TESTIMONY ON ALTERNATIVES FOR THE SEXLINGER FARMHOUSE AND ORANGE ORCHARD
SANTA ANA, CA (June 13, 2012) – On Thursday, June 28, 2012 the Santa Ana Historic Resources Commission will take public testimony on alternatives that could be used to preserve the Sexlinger Farmhouse and Orange Orchard. The property, located at 1584 E. Santa Clara Avenue, was recently placed on the Santa Ana Register of Historic Properties by the City Council. The property owners, Concordia University and Lutheran High School of Orange County, objected to the historic listing and on June 12, 2012 submitted a letter of intent to demolish the house and remove the orange trees. The property owners had previously submitted a proposal to develop the property with 24 new single-family homes, but this project is now on hold pending a 240-day waiting period during which alternatives to the demolition will be explored.
The public is invited to attend the Historic Resources Commission meeting and provide input on ways that the property could be preserved, or on alternative ways that the property could be developed. The meeting will be held at 4:30 p.m. on June 28, 2012 in the City Council Chambers at Santa Ana City Hall, 20 Civic Center Plaza, Santa Ana, CA. Parking validation will be provided and translation services also are available.
For more information, or to provide feedback, please contact Principal Planner Vince Fregoso at (714) 667-2713 or via e-mail at vfregoso@santa-ana.org.
###