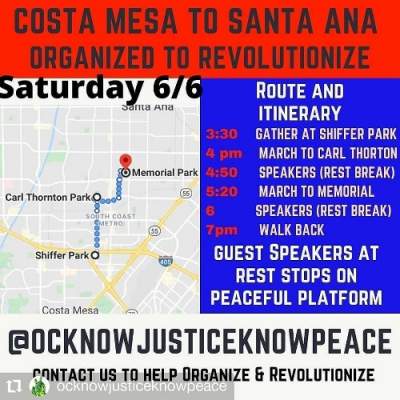 A peace march is set for today, June 6, starting at 3:30 p.m. in Costa Mesa. The marchers will end up at Memorial Park, in Santa Ana.
The plan is to gather at Shiffer Park, in Costa Mesa, at 3:30 .m. The march will begin at 4 p.m., to Carl Thorton Park. Speakers will start at 4:50 p.m. then the march to Memorial Park will begin at 5:20 p.m. More speakers are slated for 6 p.m. then the walk back will begin at 6 p.m. The guest speakers will speak at the rest stops on peaceful platforms.
The City of Santa Ana has a 10 p.m. curfew tonight. I could not find proof that the City of Costa Mesa will have a curfew as well.