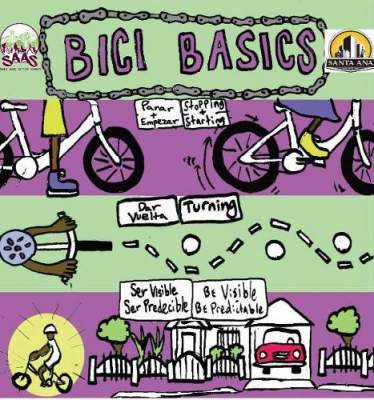 The City of Santa Ana is providing free bicycle basics cycling classes for both new and experienced bicycle riders this spring and summer. In addition to learning traffic safety skills, all participants will receive a free helmet and set of bicycle lights. There are two sessions for the bicycle basics class. The first session is virtual and the second session is the next day with hands on practice of the safety basics.
The next class is scheduled this Friday, March 12, 2021, from 4 p.m. to 5:30 p.m. via Zoom in English. There will also be a class on Friday, March 26, 2021 in Spanish. The next day class location for the hands on practice will be given in the virtual class.
For a list of upcoming class locations, times, and to sign up, visit https://www.saascoalition.org/events/. Should you have additional questions, e-mail dorian@saascoalition.org or call at (714) 340-5186.
The virtual bicycle basics classes have been coordinated by Santa Ana Active Streets (SAAS). Santa Ana Active Streets is contracted by the City's Public Works Traffic Engineering Division to host education and interactive events around traffic safety. Funding for this program is provided by a grant from the California Office of Traffic Safety, through the National Highway Traffic Safety Administration.
Clases Gratuitas de los Conceptos Básicos de Montar una Bicicleta
La Ciudad de Santa Ana está proporcionando clases de ciclismo básicas gratuitas para ciclistas nuevos y experimentados esta primavera y verano. Además de aprender habilidades de seguridad vial, todos los participantes recibirán un casco y un juego de luces de bicicleta gratis. Cada clase de bici tiene dos partes. La primera parte es virtual y la segunda parte es el segundo día y ofrece la oportunidad de practicar actualmente los conceptos básicos de montar una bicicleta.
La próxima clase está programada para este viernes 12 de marzo de 2021, a partir de las 4 p.m. hasta las 5:30 p.m. a través de Zoom. También habrá una clase el viernes 26 de marzo de 2021 en español. Le daremos la ubicación de la segunda parte de la clase cuando nos unamos en la clase virtual.
Para obtener una lista de los lugares y horarios de las próximas clases, y para inscribirse, visite https://www.saascoalition.org/events/. Si tiene preguntas adicionales, envíe un correo electrónico a dorian@saascoalition.org o llame al (714) 340-5186.
Las clases de conceptos básicos de bicicletas virtuales han sido coordinadas por Santa Ana Active Streets (SAAS). Santa Ana Active Streets es contratada por la División de Ingeniería de Tráfico de Obras Públicas de la Ciudad para organizar eventos educativos y interactivos sobre la seguridad del tránsito. Los fondos para este programa provienen de una donación de parte de la Oficina de Seguridad del Tráfico de California, a través de la Administración Nacional de Seguridad del Tráfico en las Carreteras.