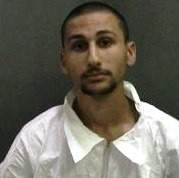 Orange County District Attorney Press Release
For Immediate Release: September 18, 2014
Case # 12WF2176
MAN CONVICTED OF SHOOTING-MURDER OF RIVAL 17-YEAR-OLD
SANTA ANA – A man was convicted today of shooting and murdering a 17-year-old rival. Reda Hassan Safieddine, 20, Fountain Valley, was found guilty by a jury of one felony count of second degree murder with a sentencing enhancement for the personal discharge of a firearm causing death and one misdemeanor count of brandishing a firearm. He faces a maximum sentence of 40 years to life in state prison at his sentencing Nov. 7, 2014, at 9:00 a.m. in Department C-40, Central Justice Center, Santa Ana.
At the time of the crime, Safieddine, then 18 years old, and the victim had an ongoing rivalry. A few hours before the shooting on Aug. 13, 2012, the defendant encountered the victim and argued with him in a residential neighborhood in Santa Ana. After the verbal confrontation, the two went separate ways.
At approximately 1:20 p.m. the defendant drove and parked his car in a convenience store parking lot in Fountain Valley. The defendant then grabbed a shotgun from the backseat of his car upon seeing the victim drive into the parking lot.
Safieddine stood outside his car as the unarmed victim walked toward the defendant's vehicle. Safieddine murdered the victim by firing one round from his shotgun and hitting the victim's neck. The victim died at the scene.
Fountain Valley Police Department (FVPD) officers arrived at the scene and arrested the defendant.
FVPD investigated this case. Senior Deputy District Attorney Steve McGreevy of the Homicide Unit is prosecuting this case.
###
Tony Rackauckas, District Attorney
401 Civic Center Drive West
Santa Ana, CA 92701
Contacts:
Susan Kang Schroeder
Chief of Staff
Office: 714-347-8408
Cell: 714-292-2718
Farrah Emami
Director of Public Affairs
Office: 714-347-8405
Cell: 714-323-4486