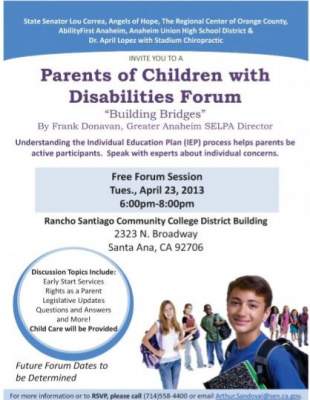 FORUM FOR PARENTS OF CHILDREN WITH DISABILITIES AND THEIR RIGHTS IN SCHOOL
(SANTA ANA, CA) – Various community leaders and non-profit organizations are working together to hold a forum for parents of children with disabilities to talk about the rights from birth through the education process. For parents who have children with disabilities, the moment they realize that their child has a disability; parents face a new adversity in learning about all the possible resources to help their son or daughter. Sometimes state program or the education system does not provide thorough information concerning the rights of a child with disabilities and parents have many questions their rights as a parent.
This is why Senator Lou Correa in collaboration with Angels of Hope, The Regional Center of Orange County, AbilityFirst Anaheim, Anaheim Union High School district and Dr. April Lopez with Stadium Chiropractic & State Council Developmental Disabilities Board will hold several "Parents of Children with Disabilities Forums":
Parents of Children with Disabilities Forums
Tues., April 23, 2013  
6:00 pm – 8:00 pm
Session located: 
Rancho Santiago Community College District Building
2323 N. Broadway, Santa Ana, CA 92706
"It's important that parents of children with disabilities learn about the right of their children as well as for themselves as a parent" said Senator Correa "many times parents do not receive the appropriate information that to their child with special needs".
The forum will include a presentation about learning the ABC's of Special Education: IEP, FAPE, LRE, IEE presentation by Frank Donavan, Greater Anaheim Special Education Local Plan Area (SELPA) Director and other various topics include Early Start Services, Rights as a Parent of children with disabilities and legislative updates. At the end of the presentation there will also be time for questions and answers.
For more information /question about the forum or to RSVP, please contact the District Office of Senator Correa by phone at (714) 558-4400 or by email at Arthur.Sandoval@sen.ca.gov .
Senator Lou Correa represents the 34th Senate District, which includes the cities of Anaheim, Santa Ana, Garden Grove, Westminster, Stanton, Buena Park and Fullerton.