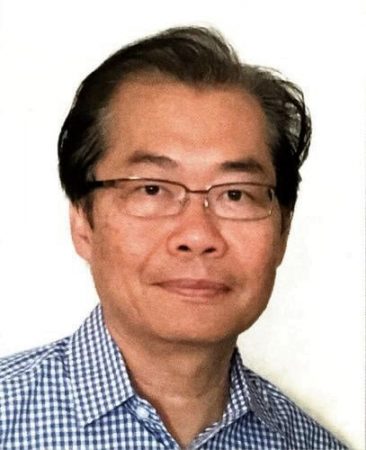 SANTA ANA, Calif. – A Huntington Beach man has been sentenced to life without the possibility of parole after pleading guilty to fatally stabbing his boss more than 30 times after ambushing him in a parking lot at California State University, Fullerton in 2019. Investigators believe Chuyen Van Vo killed his boss because he was concerned he was about to discover that Vo was using a fake tutoring business to steal hundreds of thousands of dollars from the university.
Vo, 55, offered to plead guilty to the murder of Steven Shek Keung Chan (pictured above) and be sentenced to life without the possibility of parole. He also pleaded guilty to one felony count of grand theft by embezzlement, one felony enhancement of the personal use of a deadly weapon, a knife, and admitted the special circumstance of lying in wait. Vo was immediately sentenced to life without the possibility of parole.
On August 19, 2019, Chan, a retired Cal State Fullerton administrator turned consultant, drove to the college and parked his vehicle in a campus parking lot. He was immediately approached by Vo who worked for Chan and had been waiting for Chan to arrive. Vo stabbed Chan more than 30 times before running away. Chan died at the scene. Cho was arrested by the Fullerton Police Department a short time later.
Detectives discovered a backpack that had a note detailing the steps Vo had for carrying out his plan, along with a wig, beard, zip ties, lighter fluid and a lighter.
Part of Vo's responsibilities at Cal State Fullerton's Extension and International Program (EIP) was to provide initial approval for invoices. Vo is accused of creating a fake tutoring business, submitting fake invoices to Cal State Fullerton for reimbursement and then review and provided initial approval for the invoices. The invoices were then submitted to a more senior person for additional approval. Vo stole approximately $206,000 from Cal State Fullerton by submitting falsified tutoring invoices. Chan reviewed several of the fake invoices Vo had submitted and initially approved. Several weeks before Chan's murder, Chan had a conversation with Vo indicating they needed to be more careful in reviewing and verifying the invoices. Authorities believe Vo became concerned that his boss was about to uncover his scheme and killed him as a result.
"This senseless act of violence not only brought fear to our community, especially our partners at Cal State Fullerton, but needlessly robbed a family of a loved one far before his time," said Jon Radus, interim chief of the Fullerton Police Department. "I'm grateful to our dedicated team of Investigators who relentlessly pursued this case and ultimately brought Vo to justice in just under 72 hours. Our thoughts remain with the victim's family and friends as they continue to process their loss."
"This was a callous and brutal murder of a man who returned to Cal State Fullerton after his retirement to continue helping the university he so adored," said Orange County District Attorney Todd Spitzer. "Mr. Chan was revered by the Titan community and his contributions will never be forgotten. Thank you to the Fullerton Police Department for their incredible work to quickly identify and apprehend the suspect so that we could begin the pursuit of justice for Mr. Chan, his loved ones, and the Cal State Fullerton community."
Senior Deputy District Attorney Jeff Moore of the Homicide Unit prosecuted the case.