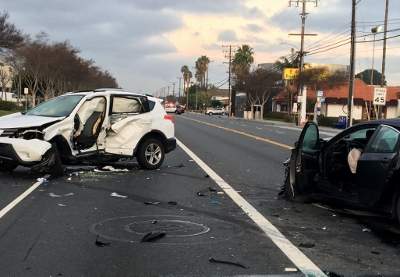 Advisory: SAPD Investigates Pursuit and Traffic Collision – Intersection of Westminster and Euclid Avenue

Arrestee: Luis Enrique Ortiz (31) Whittier
On Wednesday, February 27, 2019 at approximately 4:08 AM, SAPD Officers initiated a traffic stop of a vehicle for observed vehicle code violations. Upon initiating the traffic stop, the suspect vehicle failed to yield and a short vehicle pursuit ensued westbound on Westminster Avenue toward the City of Garden Grove. As the suspect vehicle approached the intersection of Westminster and Euclid Avenues, it failed to stop for the red signal light and entered the intersection where it broadsided another vehicle which was headed south on Euclid.
As a result of the collision, the driver and three occupants of the suspect vehicle and the driver of the other involved vehicle were injured. The injured parties were briefly treated at the scene by both Orange County Fire Authority (OCFA) and Garden Grove Fire Departments (GGFD) before being transported by CARE Ambulance to local hospitals. The injuries of the involved parties ranged from complaint of pain to critical.
The Santa Ana Police Department (SAPD) requested the assistance of the California Highway Patrol (CHP) – Santa Ana Office to conduct an independent investigation of the collision assisted by SAPD's Collision Investigation Unit (CIU).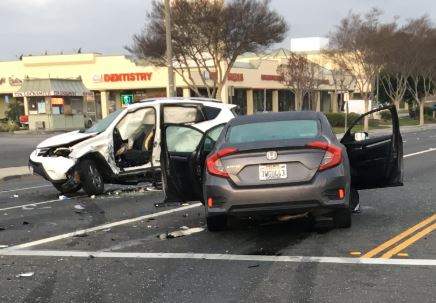 The initial investigation revealed the suspect vehicle, registered out of Whittier, CA, was being operated by Luis Enrique Ortiz. A record check revealed Ortiz had an outstanding "No Bail" felony warrant for a previous incident where he attempted to evade authorities by fleeing in a vehicle and an expired license. Once Ortiz is released from the hospital, he will be booked into jail for a violation of 2800.3(a) CVC, (Felony) Evading causing Injury, and other charges. Additionally, there was drug paraphernalia located inside the suspect's vehicle. The female driver of the other involved vehicle received critical injuries and remains hospitalized.
The CHP, assisted by the SAPD CIU, handled the investigation of this traffic collision. SAPD will handle the criminal investigation of this incident. Any witnesses or other persons that may have information pertinent or related to this incident are asked to contact the SAPD CIU – Corporal Brett Nelson at (714) 245-8208.