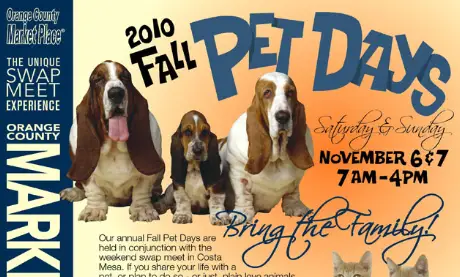 The Third Annual Fall Pet Days event is coming to Costa Mesa this weekend, at the Orange County Marketplace, on Nov. 6 and 7, from 7 am to 4 pm.  The event will include:
Adoptions
Training Tips
Guest Speakers
Demonstrations
Pet Wellness Information
Spay & Neuter Information
Animal Welfare Education
Holiday Pet Safety Tips
Pet-Related Vendors
Pet Days Rescue Groups:
The Ark of San Juan Companion Animal Rescue
So Cal Bulldog Rescue
The Pet Rescue Center
SCART-Surf City Animal Rescue Team
Helping Orphaned Hounds
Orange County Pit Bull Rescue
Canine Angels Service Teams
Southern California Dachshund Rescue
Beagles & Buddies Rescue
Dalmatian Rescue of Southern California,lnc.
Basset Hound Rescue of So Cal
Click here for a free admission offer!  Click here for MORE free coupons!
For more information visit ocmarketplace.com or freebies/offers, join our email clubatocmarketplace.com
Sorry- no personal pets are allowed at the DC Market Place, or fairgrounds