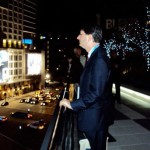 The ECCOPAC has endorsed John Santoianni for the Anaheim City Council
Press Release, For Immediate Release
ECCOPAC Announces JUNE 2010 Election Endorsements
Santa Ana, CA – May 24, 2010 – ECCOPAC is proud to announce the release of its endorsements for the California June Primary Election.
ECCOPAC encourages everyone to vote. This voter guide is designed to help LGBT and progressive voters make more informed decisions.
Don't forget to VOTE June 8th! If you can't vote in person, please vote by mail.
ECCOPAC VOTER GUIDE:
E=Endorse (YES)
A=Acceptable
U=Unacceptable
NP=No position
Prop 13: Earthquake Retrofit Safety Measure YES
Prop 14: "Top Two" Primary NO
Prop 15: California Fair Elections Act YES
Prop 16: Utility Power Grab (sponosored by PG&E) NO
Prop 17: Insurance Rate Hike Initiative (sponsored by Mercury Ins.) NO
CA Senator Barbara Boxer E
CA Senator Tom Campbell U
CA Senator Chuck DeVore U
CA Senator Carly Fiorina U
CA Senator Tim Kalemkarian U
CA Senator Robert M "Mickey" Kaus NP
CA Senator Brian Quintana A
CA Senator Al Ramirez NP
CA Representative, 40th CD Christina Avalos E
CA Representative, 40th CD Ed Royce U
CA Representative, 44th CD Bill Hedrick E
CA Representative, 46th CD Ken Arnold E
CA Representative, 46th CD Jayendra Shah NP
CA Representative, 48th CD Beth Krom E
CA Representative, 47th CD Loretta Sanchez E
CA Representative, 50th CD Tracy Emblem E
CA Representative, 70th CD Chris Norby U
CA Representative, 72nd CD Esiquino Ramos Uballe E
CA Governor Richard William Aguirre U
CA Governor Edmund G "Jerry" Brown, Jr E
CA Governor Bill Chambers U
CA Governor Lowell Darling U
CA Governor Vibert Greene U
CA Governor Douglas R Hughes U
CA Governor Ken Miller U
CA Governor Lawrence "Larry" Naritelli U
CA Governor Robert C Newman U
CA Governor Charles "Chuck" Pineda, Jr U
CA Governor Steve Poizner U
CA Governor Peter Schurman U
CA Governor Joe Symmon NP
CA Governor David Tully-Smith U
CA Governor Laura Wells A
CA Governor Meg Whitman U
CA Lt. Governor Sam Aanestad U
CA Lt. Governor Bert Davis U
CA Lt. Governor Yvonne R Girard U
CA Lt. Governor Janice Hahn E
CA Lt. Governor Dave Harris U
CA Lt. Governor Scott L Levitt U
CA Lt. Governor Abel Maldonado U
CA Lt. Governor Gavin Newsom E
CA Attorney General Steve Cooley U
CA Attorney General Rocky Delgadillo U
CA Attorney General John Eastman NP
CA Attorney General Tom Harman U
CA Attorney General Kamala D Harris A
CA Attorney General Chris Kelly A
CA Attorney General Ted W Lieu A
CA Attorney General Pedro Nava E
CA Attorney General Mike Schmier NP
CA Attorney General Alberto Torico A
CA Board of Equalization, 3rd District Vic Baker U
CA Board of Equalization, 3rd District Mary Christian Heising A
CA Board of Equalization, 3rd District Michelle Steel A
CA Controller John Chiang E
CA Controller David Evans U
CA Controller Tony Strickland U
CA Insurance Commissioner Hector De La Torre E
CA Insurance Commissioner Brian Fitzgerald NP
CA Insurance Commissioner Dave Jones E
CA Insurance Commissioner Mike Villines NP
CA Secretary of State Debra Bowen E
CA Secretary of State Damon Dunn U
CA Secretary of State Orly Taitz U
CA Superintendent of Public Education Larry Aceves NP
CA Superintendent of Public Education Gloria Romero U
CA Superintendent of Public Education Tom Torlakson E
CA Treasurer Bill Lockyer E
CA Treasurer Mimi Walters U
CA State Senator, 22nd SD Kevin De Leon E
CA State Senator, 34th SD Lou Correa E
CA State Senator, 38th SD Gila Jones E
CA State Assemblymember, 36th AD Maggie Campbell NP
CA State Assemblymember, 53rd AD Betsy Butler E
CA State Assemblymember, 53rd AD Mitch Ward A
CA State Assemblymember, 56th AD Tony Mendoza E
CA State Assemblymember, 67th AD Rosalind Freeman E
CA State Assemblymember, 68th AD Phu Nguyen E
CA State Assemblymember, 69th AD Jose Solorio E
CA State Assemblymember, 70th AD Melissa Fox E
CA State Assemblymember, 70th AD Michael Glover A
CA State Assemblymember, 71st AD Gary Kephart E
CA State Assemblymember, 73rd AD Judith Jones E
County Board of Supervisors, 4th District Rose Espinoza A
County Board of Supervisors, 4th District Lorri Galloway E
OC Superior Court Judge, Office No. 2 Scott Steiner NP
OC Superior Court Judge, Office No. 13 Nick Dourbetas NP
OC Superior Court Judge, Office No. 16 Julian W Bailey A
OC Superior Court Judge, Office No. 16 Gerald L Klein NP
OC Superior Court Judge, Office No. 16 Andy Manssourani E
OC Superior Court Judge, Office No. 39 Cheri Pham NP
OC Superior Court Judge, Office No. 50 Lon Hurwitz A
OC Assessor Webster J Guillory A
OC Assessor Claude Parrish U
OC District Attorney Tony Rackauckas A
OC Public Administrator Colleen Callahan U
OC Public Administrator Steve Rocco U
OC Public Administrator Kevin Vann NP
OC Public Administrator John S Williams NP
OC Treasurer/Tax Collector Webster Guillory A
OC Treasurer/Tax Collector Shari L Freidenrich NP
OC Treasurer/Tax Collector Patrick "Pat" Desmond NP
OC Treasurer/Tax Collector David B Lang NP
OC Treasurer/Tax Collector Keith Rodenhuis NP
Anaheim City Council John Santoianni E
Campbell City Council Evan Low E
Laguna Hills City Council Pierre Gilbert E
Long Beach City Council Robert Garcia E
Long Beach City Council Gerrie Schipske E
Long Beach USD, District 1 Jeff Price E
Rancho Santiago Community College John R Hanna E
ECCOPAC
Eric Dills
Membership/Donor Relations
ECCOPAC
Jim Roger
Chair