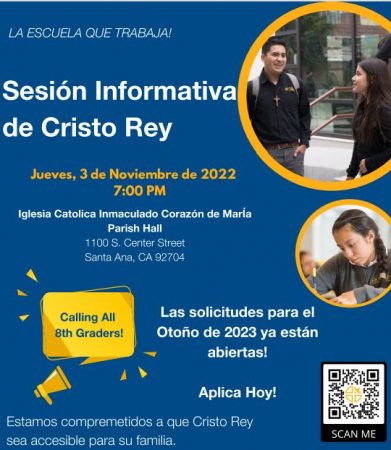 Cristo Rey Orange County High School will be opening in Santa Ana in the Fall of 2023. Part of the acclaimed Cristo Rey Network of schools, they will offer an innovative program that combines a rigorous college preparatory curriculum and professional work experience, preparing our students for college and careers.
Which SAUSD School Board candidates will you vote for in November?
They are hosting an Admissions Information Night on November 3 at 7 p.m., at Immaculate Heart of Mary in Santa Ana.
Because of their corporate partnerships and philanthropy, they will be able to provide an opportunity to students with limited economic means at a very low cost–the average tuition is just $90/month for a premier college prep education.
About the Cristo Rey Network
The Cristo Rey Network® is the only network of high schools in the country that integrate four years of rigorous college preparatory academics with four years of professional work experience through the Corporate Work Study Program. Comprised of 38 Catholic, college- and career-preparatory schools that today serve 12,000 students across 24 states and collectively claim 18,000 graduates, the Cristo Rey Network delivers a powerful and innovative approach to inner-city education that equips students from families of limited economic means with the knowledge, character, and skills to transform their lives.