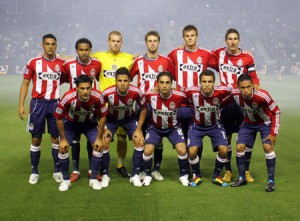 Omar Ávalos Gallegos, the publisher of the Santa Ana Sentinel Blog, is joining the SoccerNewsday.com team to cover all things Chivas USA in a column called Chivas Nation.  You may also keep up with real time game updates at Twitter or Facebook.
Gallegos also dropped a hint that the proposed move of the Chivas USA team to Santa Ana may not be dead after all, "Psst, remember when Chivas was testing the possibility of moving to Santa Ana? Well that is, in fact, NOT off the table."
In one of his first columns, Gallegos explains how far the Chivas USA team has come since 2005 – they no longer rely on aging Mexican players to fill the seats.  Instead they now have " an established academy, and has graduated academy members to the first team (Marco Delgado, Jorge Villafaña, Carlos Borja, Eric Ávila et al) – something that Chivas 2005 did not have, combined with young and accomplished Guadalajara products. This year's Guadalajara reinforcements Casillas, Mejía and De Luna are expected to bump up ticket sales, but only if that combination gets better results on the field. Chivas USA is at long last harvesting and capitalizing on the abundant Latino soccer talent pool in the LA and Southern California region, as it was supposed to from the onset, until it lost its way."
Kudos to Gallegos on moving up to the ranks of sports columnist!