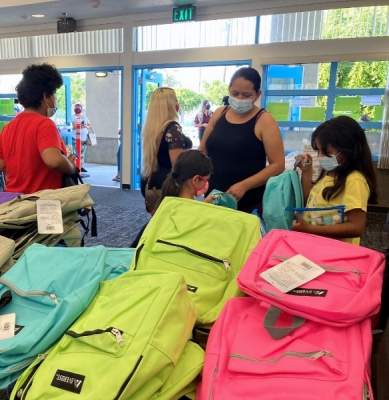 Santa Ana, California – Best Best & Krieger LLP donated 565 backpacks filled with school supplies to every student at Dr. Martin Luther King Jr. Elementary School in Santa Ana on the first day of school, August 16.
This is the 12th year that BB&K has participated in Operation Backpack. Through donations from the firm's attorneys, staff and vendors, the firm has helped more than 6,500 California families by giving away the backpacks and supplies.
Many of the students at Dr. Martin Luther King Jr. come from low income families, and the school is a Title One school. The school enrolls students from kindergarten through fifth grade.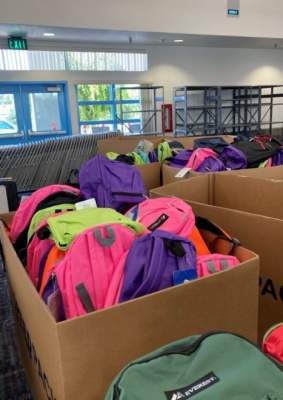 "We at Dr. Martin Luther King Jr. Elementary are so proud to partner with BB&K on this generous backpack project. With all the negative economic impact that our families have had to struggle with this last year, it was so nice to know that the purchasing of school materials and backpacks would not be a concern thanks to their kind donation," said Principal Adolfo Herrera. "At King, we are committed to preparing students to be scholars and successful, responsible global citizens who will contribute to their communities and thrive. The backpacks and supplies will ensure that every student starts the school year off on a path to those goals. We are thankful to BB&K and all the donors for the gifts, and for demonstrating to our students what community is about."
"The firm is truly honored to be a part of this wonderful Operation Backpack event," said BB&K Partner Sonia Carvalho, who serves as city attorney to Santa Ana. "It feels so good to support the future leaders of our community by helping to ensure they have the basic materials needed to succeed each school day. We firmly believe that a good education is the key to success and we can alleviate distractions and worry by making this donation."
BB&K would like to thank Staples, Inc. for assisting with bulk supplies and Boyer Moving & Storage Owner Kevin Boyer, based in San Diego, for donating a truck and crew to transport backpacks to the school. In addition, BB&K thanks the administration and staff at Dr. Martin Luther King Jr. Elementary and the Santa Ana Unified School District for their enthusiasm and partnership.
Best Best & Krieger LLP is a national law firm that focuses on environmental, business, education, municipal and telecommunications law for public agency and private clients. With more than 200 attorneys, the law firm has 10 offices nationwide, including Los Angeles, Sacramento, San Diego and Washington, D.C. For more information, visit www.bbklaw.com or follow @BBKlaw on Twitter or @bestbestkrieger on LinkedIn.