The Frida Cinema is hosting a a Book Signing & Live Reading by the Barrio Writers from Summer 2013 today, Saturday, March 29, 2014, at 2 pm., at 305 East 4th St., in Downtown Santa Ana.
In the Summer of 2009, thirty students came together to form the first Barrio Writers chapter in Santa Ana, California, a non-profit reading and writing program that aims to empower teens through creative writing, higher education and cultural arts. The first edition BW Book was published in June 2010.
Since then, five summers have passed, four summers of youth works have been released & now more students have been published in the 5th Edition Barrio Writers, A Collection of Works by Teens for Teens, Teachers & Our Communities.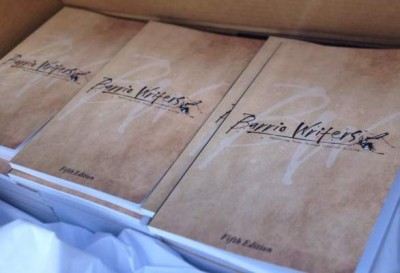 The students featured in the books have attended various surrounding schools in Orange County, CA & Austin, TX while attending workshops through the Chicana and Chicano Studies Dept. at CSU Fullerton and the Center of Mexican American Studies at UT at Austin. Please join us in supporting our youth and showing the world that regardless of the obstacles and stereotypes placed on our teens, they find a way to have a voice and teach us all life lessons!
This event is co-hosted by The Frida Cinema, we appreciate their community partnership in the arts & support for our youth and sponsored by Poets & Writers, supported by the James Irvine Foundation.
Sponsors are needed for snacks & beverages, if interested email barriowriters@gmail.com or visit our website for program details: www.barriowriters.org.