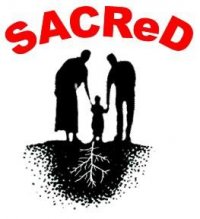 You have probably been hearing quite a bit of talk in Santa Ana lately about the "Sunshine Ordinance" proposed by a group that calls itself "The Santa Ana Collaborative for Responsible Development," otherwise known as SACReD.
You might be wondering, who are these people?  Good question.  Unfortunately they do not have a website, although they do have a Facebook page.  On that Facebook page they do list their current members, as follows:
Jeannie Gillett, Save Our Orchard, SACReD
Ruby Woo, Artesia Pilar Neighborhood Association, SACReD
Gilbert Davila and Maria Rosa Fernandez, UFCW Local 324, SACReD
Gloria Alvarado and Zack Beasley, Orange County Labor Federation, SACReD
Jeff and Ann Dickman, French Park Neighborhood Association members, SACReD
Tish Leon, Downtown Neighborhood Association, SACReD
Andrew Hausermann, Orange County Community Congregation Organization (OCCCO), SACReD
Ana Urzua, Orange County Communities Organized for Responsible Development, SACReD
Laura Pantoja, Luis Sarmiento, El Centro Cultural de Mexico, SACReD
Rosalia Pinon, Latino Health Access, SACReD
Daisy Gonzalez, Linda Tang, Kennedy Commission, SACReD
Elizabeth Picton, Cal State Fullerton MEChA, SACReD
Adriana Reza, Cal State Fullerton MEChA, SACReD
Flor Garcia, Cal State Fullerton MEChA, SACReD
Laura Garibay, SACReD resident leader
Antonio Bugarin, SACReD resident leader
Sergio Hernandez, SACReD resident leader
Ester Trinidad, SACReD resident leader
Maria Andrade, SACReD resident leader
Manuela Lopez, SACReD resident leader
Reyna Cajon, SACReD resident leader
Apolonio Cortes, SACReD resident leader
Tixoc Ventura, SACReD resident leader
Carlos Melendez, SACReD resident leader
Juan Carlos Macedo, SACReD resident leader
Victoria Salgado, SACReD resident leader
Ana Lydia Tutila, SACReD resident leader
Ricardo Ramos, SACReD resident leader
Luisa Correa, SACReD resident leader
Jeannete Ramirez, SACReD resident leader
Christian Abastos, Public Law Center, legal support
Ben Beach, Community Benefits Law Center Director, legal support
Hays Witt, Partnership for Working Families, support
As you can see their membership is dominated by representatives of organized labor as well as a bunch of people who call themselves "resident leaders," but are in truth not elected or appointed officials.  And there are a few neighborhood association types, some of whom have repeatedly sued the City of Santa Ana to stop development projects they don't like, costing the taxpayers thousands of dollars and stopping growth in our city as well as killing thousands of jobs.
What do these people want?  You can read all about their proposed Sunshine Ordinance here. Let's run down their main points:
Pre-Meetings.  Pre-Meetings around development projects allow the public to discuss jobs, housing, and open space before a public hearing is scheduled.
Increased Notification.  Increased Notification around development projects will inform all residents and businesses within the projected impact area, allowing them a chance to participate in shaping the project.
Increased access.  Increased access to RFP/RFQ processes allows the public to see who is voting on projects involving taxpayer dollars.
Lobby Reform.  Lobby Reform will create a public registry of any lobbyist doing business in the city.
Open Calendars.  Open Calendars permits the public to see who their local leaders are meeting with, in addition to the nature of the meeting.
Oversight Commission. Oversight Commission will create an independent body of residents and stakeholders to help ensure government is functioning properly.
Budget Outreach.  Budget Outreach Hearings provides additional opportunities for the public to shape the budget and understand how it functions.
Public Priority Hearings.  Public Priority Hearings creates a platform for residents to prioritize city functions and programs that are important to them.
Here is my analysis of these proposals:
When these people talk about "pre-meetings" they are referring to an end-run around our appointed Planning Commission and our elected City Council.  These folks want to meet with developers before their projects are even submitted to City Hall for consideration.  That is ridiculous and this idea has flopped everywhere else it has been proposed.
Do we need increased access to RFP/RFQ processes?  The truth is that this information is widely available but outside of a handful of NIMBY's it simply is uninteresting to most Santa Ana residents.  So why increase access when most folks in town don't care to see this info in the first place?
I am all for lobby reform.  We should know who the lobbyists are – but why isn't this group pushing for the same thing at the County level, where the corruption is even worse?
I am very much opposed to the Open Calendar idea.  How intrusive!  Our elected officials should be able to meet with whomever they want to without having every minute of their day scrutinized by a bunch of self-appointed "leaders."
An Oversight Commission?  Ridiculous!  We have the right at every election to elect new Council Members.  And we already have a whole bunch of appointed Commissions.  What this comes down to is sour grapes.  The rabble that is SACReD can't get on any City Commissions.  Too bad!  Let me add that the best oversight is what we as bloggers do – scrutinize what is going on and write about it.  That is the best "sunshine" there is.
As for "Budget Outreach," our city already does this!  SACReD is asking for something that is already practiced.  Do they even know what goes on in our city?
As for the "Public Priority Hearings," these too are an end-run around our elected City Council and appointed commissions.  These self-appointed "leaders" have no right to insist on this and our City Council should soundly reject this notion.
As you can see, the "Sunshine Ordinance" is completely ridiculous and I hope our City Council will decide as much.  I am all for transparency and open government – that is the driving force behind my work on this blog.  But these proposals are self-serving, leftist and NIMBY ideology that no other city has embraced, and neither should ours!