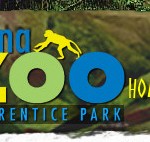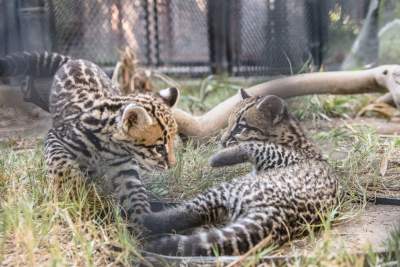 FOR IMMEDIATE RELEASE: October 19, 2017
Contact: Kent Yamaguchi, Zoo Director, (714) 647-6522, kyamaguchi@santa-ana.org
Twin Ocelots "Spotted" at the Santa Ana Zoo!
SANTA ANA, Calif. – What is black, white and orange all over? Twin Ocelot kittens! Born August 20th at the Santa Ana Zoo, this purr-fect duo have been bonding with their mother in their den, and are now enjoying their new home within our Ocelot Exhibit and Education Center. The twin births mark the second pregnancy for their mother. Her first offspring, a beautiful male, left the Santa Ana Zoo earlier this year to start a family of his own at the LA Zoo and Botanical Garden.
While the gender of these two cute kittens remains unknown, their arrival is significant for the conservation of Brazilian Ocelots and the continued efforts of the Brazilian Ocelot Consortium. Ocelots are endangered throughout their range due to habitat loss and poaching. By visiting the Santa Ana Zoo guests and Zoo members are showing their support for conservation programs and contributing to the efforts to save species worldwide.
The Santa Ana Zoo's keepers note both kittens are very active, going in and out of their den and exploring outside multiple times a day. Guests and Zoo members are welcome to visit the Santa Ana Zoo's Ocelot Exhibit and Education Center daily during normal business hours (10:00 AM to 4:00 PM). T
he Santa Ana Zoo is home to more than 150 animals, including 50 of the most entertaining and engaging monkeys, and several endangered species including the Golden Lion Tamarins. The Santa Ana Zoo's Ocelot Exhibit and Education Center opened in 2015.
To become a Member of the Zoo, please call (714) 953-8555 x13. The Santa Ana Zoo at Prentice Park is located at 1801 Chestnut Avenue, Santa Ana, CA 92701. For more information call 714-836-4000 or visit www.santaanazoo.org. For more baby news and zoo happenings follow The Santa Ana Zoo on Twitter and Facebook.