Famous mountain biker Jeff Lenosky is asking for the public's help after someone broke into his van in Santa Ana and stole more than $30,000 worth of equipment, according to ABC News.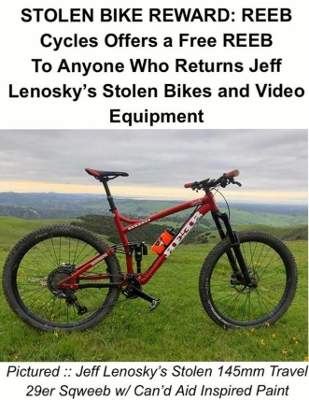 Lenosky's vehicle was parked at the time at the Holiday Inn near the Orange County Airport.
The thief was caught on surveillance video as he was rummaging through Lenosky's white van on Wednesday night, last week.
The suspect stole camera gear, a computer, two hard drives and a pair of custom bikes worth more than $10,000 each.
REEB Cycles has offered a free REEB bicycle to anyone who returns Lenosky's stolen bikes and his video equipment.
Lenosky had this to say about the incident on his Facebook page: if you have any info email me. Jeff@reebcycles.com or contact the Santa Ana PD. I'm also putting $500 of my own cash on top. It's basically a really big Easter Egg Hunt!
Lenosky said that both bikes have unique markings that make them easily identifiable. That means whoever stole them will have a tough time reselling them.